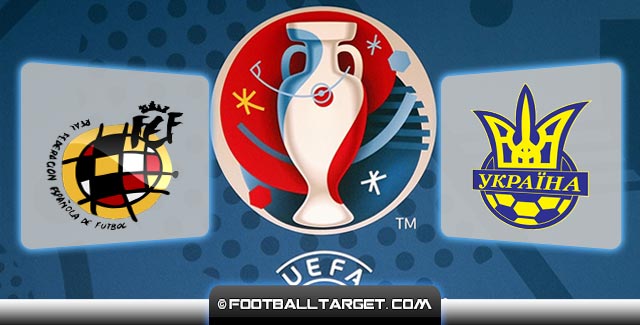 EURO 2016 QUALIFICATION
March 27, 2015 • 19:45 • Estadio Ramón Sánchez Pizjuán, Sevilla
Referee: C. Çakιr
After shocking results at the FIFA World Cup in Brazil where the Spaniards were sent home already after the group stage, Spain national football team, led by Vicente del Bosque started the renovation of the team for the upcoming European competition, but it can not be said that they excelled so far in qualifying for Euro 2016. In four games Spain have won 9 points, losing to Slovakia surprisingly, but their placement to Euro 2016 should not be inquiring.
On the other side, Ukraine have the same number of points, and they also lost to Slovakia, but to reflect, at home in Ukraine. This will be the fourth mutual encounter between Spain and Ukraine, where Spain celebrated twice, while once Ukraine managed to grab a draw.
Spain
When Euro 2016 draw was finish, immediately all the prognosis were that the Spaniards without any problem will seal the Group first place. However, then came the World Cup debacle and this selection has lost their winning spirit, and their problems continued even after the World Cup. Three wins and three defeats from six matches, suggest that Vicente del Bosque has not find the right formula to bring back the mighty Spain.
Vicente del Bosque's men have lost two friendly games, against Germany and France, while their third defeat was in Euro 2016 qualifications match at Slovakia. Three wins that the Spaniards manage to grab, were against the weaker teams, Macedonia, Luxembourg and Belarus, meaning as the odds indicate Spain have to win this home match against Ukraine, or otherwise their problems might only get a much more bigger.
Vicente del Bosque again has at its disposal team crowded with stars from the strongest European clubs and leagues, but on his list there was room for the names of three debutants, Sergio Asenjo from Villarreal, midfielder Vitolu from Seville, and an attacker Juanma from Malaga.
– The match against Ukraine is one of the most important matches in the group, considering that the Ukrainian team is our direct competitor for the top positions.
– I'm not sure who shall I send to the pitch, but considering that three important points are in question, there will not be any experimentations.
Ukraine well aware of Spain's strengths – Fedetskyi
Ukrainians failed to get on "train" for last year's World Cup and already this creates a lot of pressure in these qualifications, because they do not want to miss two major competitions in a row. However, right at the beginning of qualifications Mikhail Formenko's side was shocked and Slovakia in Kiev, making things much harder for them at the start.
However, after that they managed to consolidate a bit and they enrolled three wins against weaker teams in the group without conceding a goal, so now the odds for them to secure at least third place which leads into the play-offs, increased.
They played one friendly match in the meantime, but in a goalless with Lithuania, Formenko has sent a very mixed team on the pitch.
To prepare his team on the best possible way, Ukrainians have postponed their least domestic league round for which Michael Fomenko believes that it was necessary:
– Our last meeting was a long time, and this is why we used a few more days to give our players as much information about what is expected of them in the following matches.
In addition to the pitch we have been working a lot outside. I spoke individually with all, and I believe that we are preparing for the match with Spain on the best possible way.
– We have analyzed all the previous matches of Spain in these qualifications, and it is clear that they are no longer the team from Brazil where they were physically and mentally exhausted. It is true that they insist on possession of the ball but it is far from the classic "tiki-taka".
– The only way to surprise Spain is a perfect game at back, but not in the sense to park the bus, but to try to push them on their half and to force them to make some mistakes. The same approach has worked successfully for Slovakia, and we will try to do the same.
Teams Probable lineups
Spain: Casillas; Juanfran, Ramos, Pique, Alba; Busquets, Iniesta, Fabregas; Pedro, Morata, Silva
Ukraine: Pyatov – Fedetsky, Rakitsky, Khacheridi, Shevchuk – Stepanenko, Tymoshchuk – Yarmolenko, Sydorchuk, Konoplyanka – Zozulya