Liverpool captain Steven Gerrard has donated £500k (half a million pounds) raised from his testimonial match to a children's hospital.Gerrard has been a founding partner of the Alder Hey Children's Charity after the donation, which will help buy vital equipment.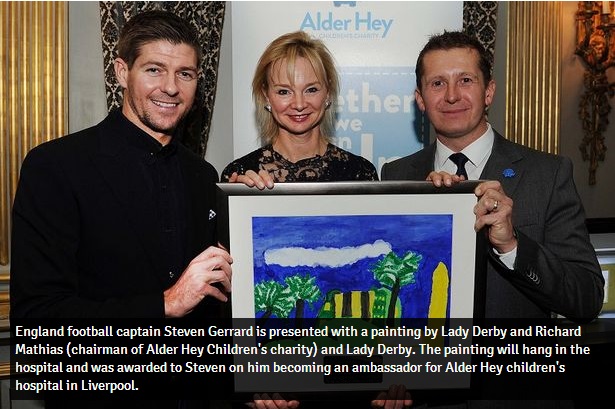 Steven told the Liverpool Echo: "It's a great privilege to be able to be involved with Alder Hey and their charity, the work they do is phenomenal and the new build looks set to be even more impressive, and maybe a little less daunting visually for the children.
"I've visited Alder Hey on many occasions, and whilst the children and their families are going through such difficult times, you can also see how much work goes into making it as comfortable as possible for them.
"The children are the inspiration and will always continue to be, even with helping in the design of the new hospital, that's what makes it so special.
"I'm honoured to have been chosen as a founding partner, and an ambassador, its a charity very close to my heart as it helps so many."
The Anfield legend thanked everyone who helped to raise the funds.
He said: "The money we have donated from my foundation was raised during my testimonial earlier this year, so for all those who came along or supported me, it's nice for them to see exactly what there money has been spent on, and know that they too have all helped make this happen."
Joint chairman for Alder Hey Children's Charity Richard Mathias said he was "honoured" Gerrard had chosen to support the cause.
He said: "His donation of £500,000 from his testimonial match is just phenomenal and is just the start our new campaign needed. Steven has been a long time supporter of Alder Hey.
"We are honoured to have Steven as an ambassador for our Charity, and we cannot express our gratitude to him enough for what he has done, and the difference he has made."