With a 1-0 Premier League win over Southampton last week, thanks to the Chilean striker Alexis Sanchez and his late winner, Gunners secured their third consecutive victory in all competitions. This Saturday they visit the Britannia Stadium, from which in the last 8 games, Arsenal sealed only one win, but more importantly, since 2010., when Ramsey's leg was broken, encounters between Stoke City and Arsenal are more like "fights" than football.
PREMIER LEAGUE
Stoke City vs Arsenal Live Streams
December 6, 2014 • 15:00 • Britannia Stadium, Stoke-on-Trent, Staffordshire
Referee: A. Taylor
Match Videos – available after the game end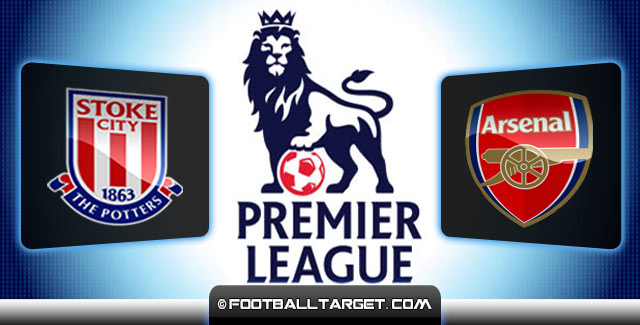 If someone did not have luck in the last two games then this is definitely Stoke City. Against the league big clubs, Liverpool and Manchester United, Hughes' men showed great game and had a number of occasions, but both times they were defeated.
Against the Reds, it was with only one goal. The same happen against the Red Devils, but more unfortunately: The second goal Stoke conceded after Rojo interfered the Goalkeeper from an offside position, while Stoke in the last minutes of match had an incredible opportunity to level the game, but what the Spaniard David de Gea saved was for a science fiction books.
The bad schedule for the Potteries doesn't stop there, as the Gunners carried on the two straight wins, three in all competitions are coming into town.
– We lost unhappily and completely undeserved, with the obvious goal of Manchester United from offside – desperate was the Stoke City strategist Mark Hughes after the match at Old Trafford, and the club president Peter Coates was even fined for his comments on the match.
– If anything can console us after all of this, then it would be the fact that we are definitely competitive in this league and that we can beat anyone, and we'll try to make that today against Arsenal – highlights Hughes, who must find a way to physically, but perhaps more importantly to psychologically raise his team for the match with Arsenal, for which he is having problems with the list of absences.
Midfielders Moses and Sidwell will not play, and Ireland and Walters are very questionable. In midfield there will be a lot of changes, and to compete with Arsenal, it is important to have strong midfield, and do as much pressure when there is no ball . Stoke in the last eight games at home against Arsenal lost only once and that was back in 2010.
Arsenal connected two wins in the league and one before that against Borussia Dortmund in the Champions League without conceding a goal . This match significantly improved the mood in north London. Maybe it was not a game to remember, but after a series of stumbling for Arsenal only points were important.
It must be taken into account and a large list of absences due to injuries, and a game against Stoke will be the fifth in the last 14 days for the Gunners.
"It is a very important period, but one thing is for sure – we are not under huge pressure for game number six in the Champions League," said Wenger.
"The week we had behind us and the week we have now, to go to Galatasaray for a decisive game would be very difficult.
"At least we are not under massive pressure there so let's focus on our next game at Stoke. It is a difficult place for us to go but let's show there that we have improved and we can deal with it."
Theo Walcott (groin) and goalkeeper Wojciech Szczesny (hip) are available but doubtful to start.