Liverpool and Uruguay star , Luis Suarez won't be able to contribute for their teams for a long time after biting italian defender Giorgio Chiellini at World Cup 2014.
See & Watch Funny Suarez videos and memes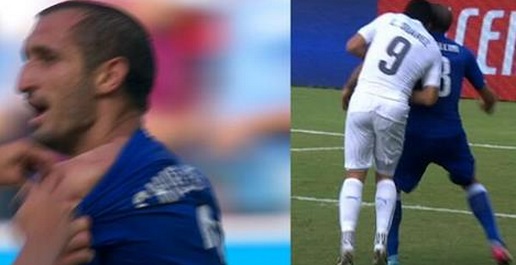 Luis Suarez wont play anymore at this World Cup since he got banned from FIFA after he bites Chiellini last Tuesday. He wont be able to play for Uruguay in their next 9 official matches.
FIFAMedia also announced that he is banned from any football activity related for next 4 months. Suarez have also to pay a $112,000 fine to biggest football association , FIFA.
This happened at Uruguay vs Italy match , where Uruguay won 1-0 by a late goal of Godin. Suarez bite Chiellini's shoulder at 80th minute after a battle in the keeper zone. They both fell in the pitch , Chiellini holding his shoulder and Suarez covering his face. No foul and no yellow/red card to Suarez from the referee, so Chiellini pulled down the sleeve of his shirt showing him Suarez bite marks in his shoulder.
After the match , Suarez commented to the press : "These things happen in the box," he said. "We were in contact, chest against shoulder, and I got a knock to the eye."
This is not the first time that Liverpool striker makes a such thing. He bite PSV midfielder Otman Bakkal at 2010 when he was an Ajax player. He got punished for 7 matches.
Another recent story was in April 2013 where he bite Chelsea defender Ivanovic. He got banned for 10 matches by English FA. He released a statement after that game where he said that he's sorry and apologising to the Serbian defender and Liverpool fans.
Luis Suarez has been named as one of the most dreadful strikers in football world, scaring every defender for his ability with the ball , but now he's scaring them for his biting ability.
The FIFA Disciplinary Committee has decided that:
· The player Luis Suárez is regarded as having breached art. 48 par. 1 lit. d of the FIFA Disciplinary Code (FDC) (assault), and art. 57 of the FDC (an act of unsporting behaviour towards another player).
· The player Luis Suárez is to be suspended for nine (9) official matches. The first match of this suspension is to be served in the upcoming FIFA World Cup™ fixture between Colombia and Uruguay on 28 June 2014. The remaining match suspensions shall be served in Uruguay's next FIFA World Cup match(es), as long as the team qualifies, and/or in the representative team's subsequent official matches in accordance with art. 38 par. 2a) of the FDC.
· The player Luis Suárez is banned from taking part in any kind of football-related activity (administrative, sports or any other) for a period of four (4) months in accordance with art. 22 of the FDC.