The players of Real Madrid are winners of the Spanish Super Cup . In the second leg match (Highlights below) at Santiago Bernabeu they celebrated with a 2-1 in a match where two new players for both teams made debuts,Alex Song for Barcelona and Luka Modric for Real Madrid..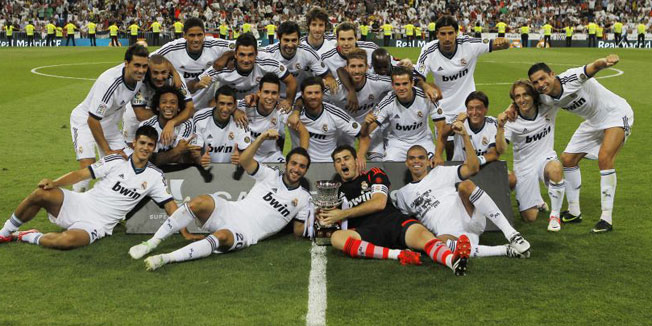 As in the first game match a week ago at the Camp Nou was 3-2 for Barcelona, because of more away goals Real Madrid celebrated and so won his 9th national Super Cup, the first since 2008., with which he broked three years of Barca's dominance.
Real deservedly came to a win in the "El Clasico" ,first home win against Barcelona since May 2008. year (seven encounters without a win, two draws and five defeats).
In the first half they were much better team than Barcelona and so, after 19 minutes they had a lead of 2-0 with goals of Gonzalo Higuain and Cristiano Ronaldo.
Lionel Messi scored in the 45th minute goal from a brilliant free kick, and it was also the only shot of the Catalan team on the goal in the first half.
In the second half Real Madrid had a control of the match altough Barcelona on several occasions had the chance to equalize.Barca failed,end match ended with final 2-1 (ag 4-4 ) score.
Real Madrid: Casillas, Arberloa, Pepe, Ramos, Marcelo, Khedira, Alonso, Di Maria, Ozil, Ronaldo, Benzema
Barcelona: Valdes, Adriano, Mascherano, Pique, Alba, Iniesta, Busuquets, Xavi, Pedro, Messi, Sanchez
Full match video of this match will be added soon