Italian SUPER CUP
Juventus vs SSC Napoli Live Streams
December 22, 2014 • 17:30 • Jassim Bin Hamad Stadium (Al-Sadd Stadium), ad-Dōha (Doha)
Referee: P. Valeri
The Italian Super Cup this Monday is set to play in Doha between Serie A champion and Italian Cup winner, Napoli. It might be confusing that this is match is on schedule to play already in the middle of season, not before, but the financial aspect directed this date. Super Cup, which these two teams played in 2012, was full of controversy so many fans expect a lot from this match.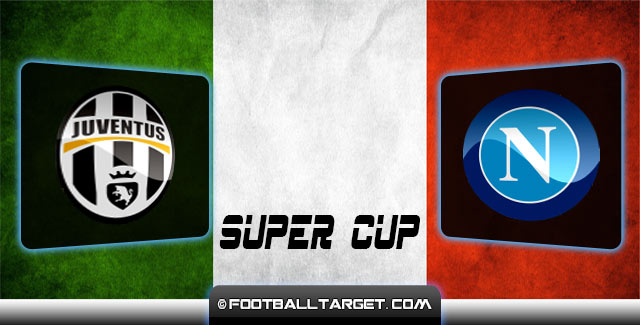 Judging by their last encounter in the Supercup 2012, we can expect a very interesting match this Monday. Then, with a lot of controversial refereeing decisions Juventus won the trophy although Napoli twice came back from behind. Juventus trough doubtful penalty levelled the score, as Vidal was sure from a penalty kick. In the extra-time two players of Napoli were sent off, so Juventus had an easy job sealing the trophy.
The referee Mazzoleni in that match has shown a red card to Napoli's former coach Mazzarri as well. It was a meeting about which in Turin and Naples a lot of people still talks about, and today's referee Valery certainly wont have an easy job in Doha.
In the last round of Serie A both teams enrolled easy wins. Juventus with 3-1 defeated Cagliari, while Napoli at San Paolu with 2-0 was better than Parma. Although these meetings were played only four days ago, both teams get used to play in tight schedules as Juventus and Napoli are both playing in the European competition as well, Juventus in Champions League and Napoli in Europa League.
– After we stayed first in Serie A and reached the knockout stages of the Champions League, Super Cup is our third goal this season.
It will not be easy to win it, because Napoli have important qualities. It's hard to play against them, especially because is one game only play one game. We dont have any room for mistakes.
The team is in good shape we bounced back with a win against Cagliari. It's the final, where everything can happen. We have a lot of respect for Napoli, but we want to bring home the trophy, said Juventus boss, Allegri.
Napoli boss, Benitez is aware that this game can bring the calmness for him at the beginning of 2015 .:
– Super Cup match is an important game for the club and for the fans and we want to win. Juventus is in front of us in the championship, but what counts is the will to win, the mentality and intensity. We are focused on this match, we respect our opponents, but we know how strong we are.
This is the final therefore I dont need any further motivation of the players because the game itself is motivating enough.
Team probable lineups
Juventus : Buffon – Lichtsteiner, Bonucci, Chiellini, Evra – Marchisio, Pirlo, Pogba – Vidal – Llorente, Tevez
Sidelined players : Caceres, Marrone, Barzagli, Asamoah, Romulo
Napoli : Rafael – Maggio, Albiol, Koulibaly, Ghoulam – David Lopez, Jorginho – Callejon, Hamsik, Mertens – Higuain
Sidelined players : Zuniga, Michu, Insigne