Uruguay's coach, Oscar Taberez strongly believes that the ban that Suarez has received is "excessive" and blames the British media for exaggerating the situation.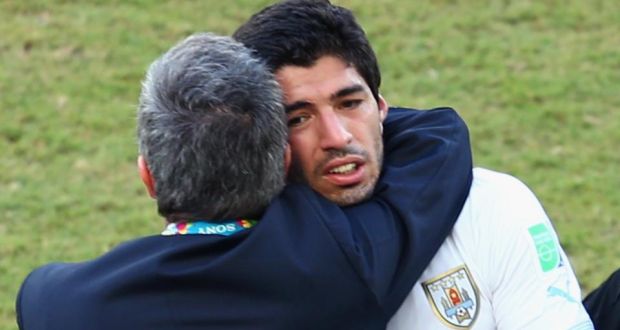 Oscar Taberez has condemned Fifa's actions marking it as "excessive" after Suarez received a four month ban from all football-related activity.
The coach made quite a long and insightful post to his feelings, in which he reveals that Suarez would not have been banned for such a lengthy time had the British media not ventilated the situation by this much.
The full statement can be read below:
""As a coach I think of the theory of the scapegoat. Of giving a punishment as an example, so that everyone gets the message of what is good and bad, correct and not. We agree with the basis of it, but there is a danger in proceeding this way. Many times you forget the scapegoat is a person who has rights. Before and after the Suarez episode we have seen incidents measured with a completely different barometer. That does not mean I am not justifying anything, I believe he should be punished. I can't deny that we were waiting for disciplinary action, but the decision was of an excessive severity. This was a transgression, not a crime. It was a decision which is obviously much more focused on the opinions of the media that attacked him immediately at the conclusion of the match and in the press conference afterwards. The journalists took only that topic for the press conference. I don't know what their nationality was but they all spoke English. When I speak of media attacks, the topic they concentrated on was the background and history of Luis because of things that happened in the past."
Taberez, the coach, has resigned from Fifa Strategy Committee as a protest, showing his full commitment in his intentions to try to reduce Suarez's punishment.
Taberez continued his statement:
"Besides Luis Suarez's mistakes, he has made significant contributions to football on the pitch. This is the true power of wonderful World Cups – the contribution of great football players. To Luis Suarez the person, the person who has always coexisted with us and we know him better than anyone else. The path you have covered is one he will go through again as someone who starts again to be better – but you will never be alone in that attempt. To the Uruguayan fans, we know you are moved by the punishment. We want you to know we are hurt but we have the desire to rebel. More than ever before, we will do our utmost for the match tomorrow."
Uruguay FA have decided to appeal against the decision and are expected to submit a full appeal within two days.