Imagine a world where you don't have to run back and forth on the pitch for 90 minutes; where a defender, a striker and even a goalkeeper is equal. You don't have to score, learn tactics or spend hours in the gym. Still you would be passing a football with your feet. Sounds unreal, futuristic or science fiction? It shouldn't as there's already a sport equipment that aims to create a world similar to what I have just  pictured for you.
The sport is called Teqball and the equipment's name is Teqboard.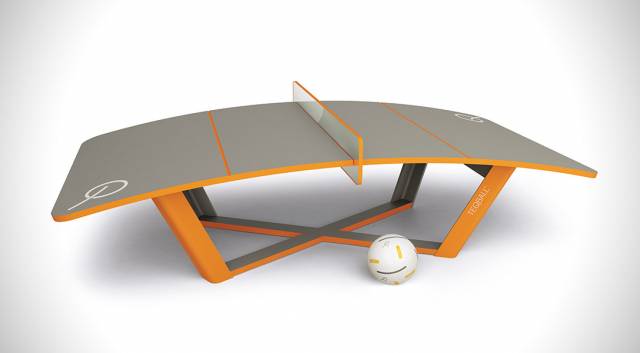 Many have compared Teqball to table tennis and I'm sure many of us have already tried playing table tennis with a football. The problem is that the ball bounces off from a horizontal surface, forcing you to make movements that you would never make on a football pitch. This is the point we should turn our attention to the curved surface of the Teqboard. Not as insanely curved as some freekicks from Beckham, but still very noticable to the eye. As the ball touches the tilted surface it accelerates and goes directly toward your feet. This way it forces you to use them. You have no other option. Having this curve the table simulates a swift, difficult pass. You have to act quickly while still controlling the situation. The most important thing to remember when playing Teqball: touch the ball very delicately. If you use to much force you might send it to outer space. Just like Jaap Stam did once.
Its main aim would be the development of technical skills, warming up before a match or rehabilitating injured players. It's not as physical as playing 90 minutes on the field, but it makes you use all the muscles you need. There are some training programs which helps developing ball control, first touch, passing with both feet, improving your positioning and gaining precision while you will surely enjoy every second of the training.
There are already some teams using it, like the Koeman brothers first at Southampton and now at Everton FC. Manchester City, Olympique de Marseille are also enjoying the beneficial effects of training with Teqboard.
Watch how the legendary Brazilian, Ronaldinho plays it