The Premiership Champions Manchester Unitedand F.A Cup winners Wigan Athletic F.C will clash on the 11th August at Wembley Arena.
The last encounter Wigan had with a Manchester side ended in jubilation as Ben Watson used his head to glance in an inch perfect ball from Shaun Maloney, seeing them beat Manchester City in the FA Cup final-a beautiful moment for a Manchester United fan. This victory saw the Latics win the first major trophy in their 81-year history.
If it wasn't for their relegation prior to the tie, this boost of morale may have sparked an improvement in Wigan' next campaign in the Premiership, but unfortunately they face the battle for promotion or survival in The Championship next season.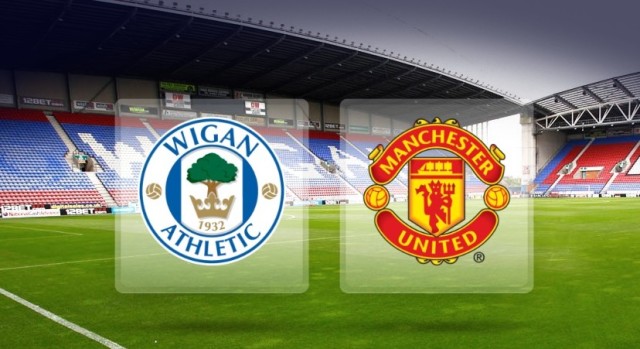 Manchester United will enter this tie as favourites and are expected to brush the relegated Wigan aside. No doubt, there will be massive amounts of pressure riding on the shoulders of the newly-appointed David Moyes- taking into consideration this will be his first competitive game in charge and he has a lot to prove. This pressure and thirst for acceptance may work to Wigan's advantage. They go into this tie with nothing to lose and will prove to be tough opposition.
Wigan will not come to Wembley and lay back, absorb waves of attack after attack. They will want to come out attacking United and fighting for the win. We have seen more surprising results in past years, but taking into consideration the experience and depth within the Manchester side, it will take an extremely good Wigan side to pull of another miracle at Wembley.
Shaun Maloney, Callum Mcmanaman and Arouna Kone will be the men leading the fight in attack for Wigan. Kone has proved to be very efficient as a lone striker with service from either side in Maloney and Mcmanaman. This may cause trouble for United's back four as De Gea has shown signs of hesitancy in set pieces, failing to assert his dominance within the penalty area in his first season.
Rafael and Patrice Evra will have to stick tight with the wide-men but will need support from the midfield area, we have seen since done in previous ties against Real Madrid where Sir Alex identified Di Maria and Ronaldo as the danger men on the wings and made sure they were closed down immediately.
With Maloney and Mcmanaman being Wigan's two most creative and threatening players, there is no doubt that a similar game plan will be put in place. United also posses two of the most experienced centre-backs in the world in Rio Ferdinand and Nemanja Vidic, whom may prove too big of an obstacle for the Wigan number 2.
It will be interesting to see whether or not Wayne Rooney will be making an appearance. If rumours are true, he may not even be a Manchester United player come August. With or out the English international, players such as Hernandez, Kagawa and  Van Persie will be itching to make an impression on the new boss.
Wigan are very aware of the main man they will need to contain in order to have a chance in beating the Champions and that man is Van Persie. The Dutch international proved to be a vital addition last summer and has hit the ground running in his first season at Old Trafford. The Wigan defence will have to be in top form and make sure they do not give the number 20 an inch of space to get away the shot.
Emmerson Boyce and Paul Scharner were sensational in the FA Cup final and have shown they are very capable of containing a world-class striker- the manager will be trying to bring the best out of these key players in order to cope with the threat in defence.
We have seen players such as Carrick, Cleverley and Kagawa thread balls through to the Dutchman all season so it is vital that the Wigan midfield keep tight with these players. Players such as MacArthur and Watson will have to shut down any service to the Dutchman and try to smother United in the middle of the pitch.
The battle will be won in midfield and it will be an end-to-end game with plenty of counter-attacking football. This suits United perfectly as they are known for their counter attacking football- so there is no doubt there will be goals in this game.
It's going to be a good game and a great day for both teams, if you're planning on a trip to Wembley, and I predict a 4-1 thriller in favour of the Manchester side, maybe even a Van Persie hat-trick.