FIFA commissioned a study which revealed who are the top players that are the fastest in the world, and the results are quite expected with a relative surprise on the top of the list.
Gareth Bale delighted many with his incredible sprint and winning goal for Real Madrid against Barcelona at the King's Cup trophy. Because of the speed and crossing the full line,  he was "reported" to the police by one fan,  but also Bale got a new nickname Gareth Bolt / Usain Bale which compares him with the fastest man in the world.
 Bolt jealous of Bale: He scored a goal which every sprinter wants to score

The legendary Jamaican remained impressed by fleet-footed Welshman. "It's kind of a goal every  sprinter in the world wanted to score," commented Bolt and added:
"He showed a great speed, he run past the defense, kept cool-head and he sent the ball past the goalkeeper. He is the fastest footballer in the world at the moment."
Who is the fastest?
Bale's lightning breakthrough against Barcelona started the debate about who is the fastest footballer in the world. In addition to currently the most expensive, Cristiano Ronaldo is considered as one of the fastest and a holder of that title. For Cristiano it is known that he use the training methods more appropriate to sprinters at 100 meters than to a football player.
According to the data of FIFA, Bale is still faster than the Portuguese, with a top speed 34.7 km / h.
But there is someone faster – Antonio Valencia from Manchester United.
Ranking was done according to the criteria of speed players while having the ball in possession, and it's not a surprise, that wingers are dominating. The first two come from the ranks of United, Real Madrid, Bayern Munich and Barcelona, and one each from the London rivals Tottenham and Arsenal.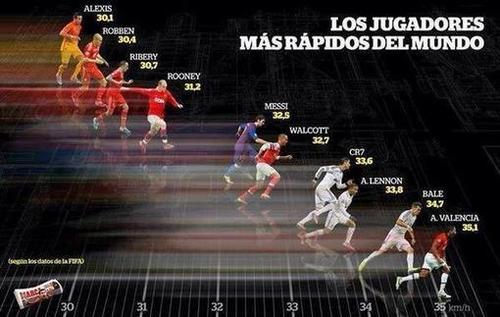 The fastest players of the world in the season 2013/2014
1st Antonio Valencia 35.1 km / h
2nd Gareth Bale is 34.7 km / h
3rd Aaron Lennon 33.8 km / h
4th Cristiano Ronaldo 33.6 km / h
5th Theo Walcott 32.7 km / h
6th Lionel Messi 32.5 km / h
7th Wayne Rooney 31.2 km / h
8th Franck Ribery 30.7 km / h
9th Arjen Robben 30.4 km / h
10th Alexis Sanchez 30.1 km / h