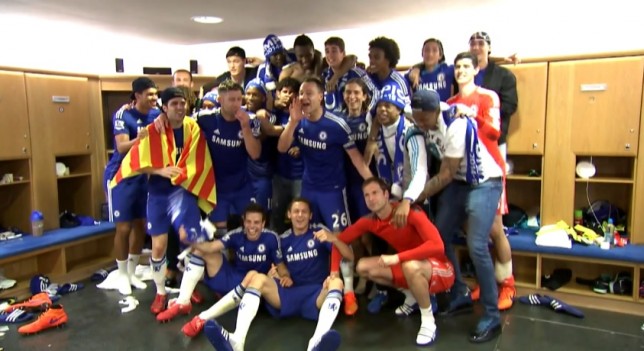 Screenshot: Youtube
Chelsea have made sure they have won the title with 3 games to go, after the victory against Crystal Palace here on Sunday.
Jose Mourinho have already won the Capital One Cup and now the Premier League title is added to his glittering football CV. ;Many saw the title coming to Stamford Bridge since 2010 season.
Prefect signings
Jose Mourinho knew his missing puzzles from last season, after Chelsea missed out on winning the title last season. Mourinho did not waste time in the summer to sign Cesc Fabregas from Barcelona and Diego Costa from Atletico Madrid. The departure of Frank Lampard made way for Fabregas to play in his natural position and the Spaniard adopted remarkable, combining with Oscar, Willian and Hazard to provide assists for Diego Costa. The Spanish striker delivered what was expected from him by Jose Mourinho and the Chelsea faithful fans.
Meant business
Chelsea start to the season gave sign to the rivals they mean business unlike last season when Chelsea lacked creativity and the killer instinct. With Fabregas and Costa on board Chelsea looked a much improved side this season. Chelsea played with more passion and confidence this season.
Won the top 4 battle
Jose Mourinho made sure he won against all the top 4 sides. Chelsea managed to grab draws against Manchester City, against Manchester United the blues draw the away game and won at Stamford Bridge. Chelsea welcomed Arsenal at home in October and won the derby 2-0, the fixture at Emirates gave both sides one point each. Jose Mourinho's brave Chelsea won the battle at Anfield, with Liverpool visiting Stamford Bridge next week and will possibly give Chelsea guard of honor.
Came back strong
Chelsea undefeated run came to end at the hand of Newcastle, lost the game 2-1 at St. James Park. After this defeat Chelsea saw another heavy defeat against city rivals Spurs on new year day. These 2 defeats made Chelsea to learn from their mistakes and since then Chelsea have not tasted  defeat.
Player in and out
In the January transfer window Chelsea only signed Juan Cuadrado from Fiorentina. Few players left Stamford Bridge, Andre Schurrle left the London side to join Wolfsburg, Fernando Torres joined his old club Atletico Madrid, Ryan Bertrand made his loan move permanent to Southampton. While Salah joined Fiorentina on loan.
Champion League pain
Chelsea were trashed out of Champions League by Paris Saint-Germain on goal difference, the misery and pain was there but Jose Mourinho did not waste tears and quickly focus on the Premier League. After that Chelsea only focus was on the remaining fixtures in the league. One game per week benefited Chelsea greatly to win the title.
Wembley triumph
Jose Mourinho won the Capital One cup since returning to Chelsea against Spurs at the Wembley stadium.The cup motivated the Chelsea stars to go on and win the Premier League title. Again, Chelsea players knew they still have a job to complete before celebrating the title success.
Boring, boring?
The match at the Emirates at the end of the season and plus Chelsea-Manchester United at Stamford Bridge, made fans and few pundits label Chelsea style of play as boring and unattractive. Jose Mourinho mocked Arsenal by declaring boring is club which have not won a title since 19 years. Chelsea have recorded only 2 defeats this season till now with 3 games to go.