With the January transfer window closing on, there are a lot of rumors about possible signings and we bring the top 10 which might come true until the deadline, which ends on Friday when the most of the signings actually happens.
So far, Manchester United signed the Spanish midfielder Juan Mata, Newcastle midfielder Cabaye joined PSG for £19m but some of the big football names, yet can switch their clubs.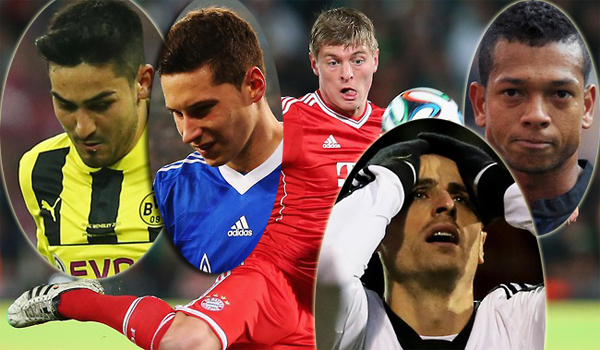 Fredy Guarin – Manchester United, Chelsea and Tottenham 
After the Italian club, Juventus gave up on him, Inter midfielder Fredy Guarin is very close to signing for some Premier league club.
Manchester United, Chelsea and Tottenham have him on the wish list and it is almost certain that the 27 – year-old Colombian will sign for some of these clubs. Most chances in the hunt for Colombian have Chelsea and Manchester United
Mario Mandžukić – Chelsea, Arsenal, Juventus
The Bayern Munich striker, who helped to Bavarian giant to win the treble last year is on the move, as the Bavarian giant secured the landing of Lewandowski on summer. Mandžukić is not happy with it,  and some tensions between him and Pep Guardiola have raised up. Even if Mario stays in Bayern on the Summer transfer window almost certainly the Croat will change his destination, and the Premier league is the most certain destination for him.
Dimitar Berbatov – Arsenal or Tottenham
Dimitar Berbatov wants very much to leave Fulham, before becoming a player of the Championship club. Because the club from the Craven Cottage according to many is a safe passenger to Championship competition. Arsenal desperately seeking for the powerful attacker, as an alternative to Olivier Giroud . His former club , Tottenham also is keen on him.
Eliaquim Mangala  – Manchester City , Manchester United or Chelsea
Manchester City are favorites for the signature of the French defender Eliaquim Mangala from FC Porto.
It is believed that the citizens are willing to pay 38 million pounds for the great Frenchman. This would reinforce the worst part of City team, the last line. However, it seems that neither David Moyes has not yet given up . Chelsea could join the race for Mangala as Jose Mourinho is a big fan of him and Chelsea was involved in some speculations with him the last summer.
Luke Shaw – Manchester United and Chelsea
Southampton does not want to sell Shaw, but this is not so important to Manchester United and Chelsea, who do not give up on signing the 18-year-old left side until the end of this week.
Apparently, the talented Englishman secretly likes the Stamford Bridge club, and apparently Mourinho could be his future boss.
Julian Draxler and Mirko Vucinic – Arsenal
With less than 48 hours of the January window remaining, it's likely that Wenger will agree to pay  £30m for the Schalke midfielder. With the new sponsorship contract with Puma, Wenger's budget certainly can afford this and it's believed that deal with will be signed until Saturday.
Gunners desperately are looking for the new striker. With Mario Mandžukić is some combination, and even Monaco star Falcao, who has sponsorhip with Puma also, until summer Wenger wants to find a replacement for Giroud. Juventus striker Mirko Vucinic almost certainly will join the English club, but on a loan.
– Update : Mirko Vucinic has turned down moves to Arsenal and Valencia and could still yet end up at Inter
Toni Kroos – Manchester United and Chelsea
David Moyes has firmly decided to bring another player to United. Therefore, recently he traveled to Germany to watch Bayern Munich's game, and it was midfielder Toni Kroos who was his target.
Kroos, according to German and English media, almost certainly is the player who will continue his career  in England. The only question is whether his new club on Friday will be Manchester United or Chelsea.
As for the other names, Chelsea agree €15m Zouma fee (St. Etienne ) and Borussia Dortmund move closer to Dzeko signing while Liverpool is in race with Spurs for Dnipro striker Konoplyanka. Ilkay Gundogan is targeted by Real Madrid and Premier league clubs, but the club and himself have confirmed that for now his place is in Dortmund.