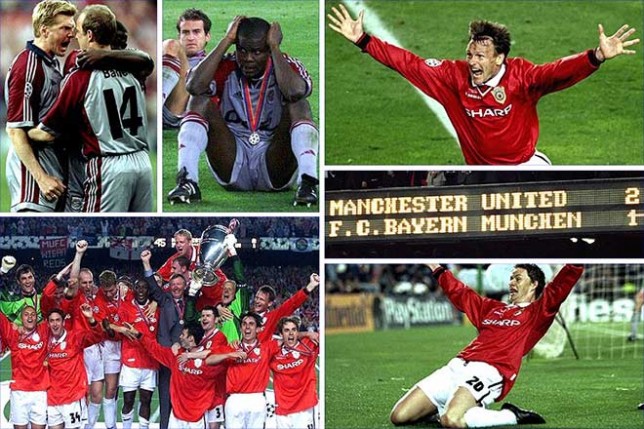 Manchester United is one of the most decorated and successful clubs in England, winning 20 league titles and 3 European cups – but not without a rub of green along the way! Most notably there was an incredible 10 year run of luck – from December 1993 to April 2004 – when not a single penalty was scored against United in a Premier League match at Old Trafford. Ruel Fox remained the most recent scorer, for Norwich City in 1993, until Danny Murphy netted for Liverpool in 2004. Juninho, David Dunn and Muzzy Izzet were the only players to miss.
5) Manchester United 2 Bolton Wanderers 0
Premier League, September 2008
A decision so bad that Bolton were later to receive an apology from the referee.
With no score on the hour mark, it looked like United were going to have one of those days. But they had not factored in referee Rob Styles.
After Cristiano Ronaldo received the ball down the right and glided into the area, a perfect tackle by Jlloyd Samuel stopped the ball dead. Even Ronaldo did not dare claim a penalty.
Ronaldo crashed it home before Wayne Rooney added a second to seal the win. The referee later asked the Professional Game Match Officials Limited to pass on his regret to Bolton, if the referee is apologizing then you know you have been lucky, very lucky indeed – that's incredibly rare. The chances for this to happen are similar to those of hitting the US Powerball jackpot.
4) Manchester United 2 Stoke City 1
Premier League, 2nd December 2014
The home side led when Marouane Fellaini headed in Ander Herrera's left-wing cross at the far post. Stoke equalised through Steven N'Zonzi's low shot, but they slipped to a third straight loss when Juan Mata's free-kick from the right sneaked in.
Stoke's Mame Biram Diouf was twice denied an injury-time equaliser.
The 26-year-old Stoke forward, who had an indifferent spell at Old Trafford earlier in his career, saw United keeper David De Gea claw out his header before emergency full-back Ashley Young cleared another effort off the line seconds later. This incredible amount of luck is mindboggling to witness – an absolutely outrageous save following by Ashley Young, a winger by trade, finding the ball rocketing off his shin pad in the dying seconds of the game to give Manchester United a precious and undeserved three points. Diouf was left mystified by his failure to earn a point for the visitors, shaking his head in disbelief as he slowly lumbered off the pitch at the final whistle.
3) Newcastle United 0 Manchester United 1
David De Gea is one Manchester United player who can keep an underwhelming team in a game, sometimes playing like a one man team – the Red Devils were indebted to their goalkeeper for keeping them level. The Spaniard threw himself at Riviere's first time effort to make a point-blank save after Fabricio Coloccini's header across goal.
After 89 minutes the game's defining moment came. Abeid, under pressure from Wayne Rooney, put his goalkeeper in trouble with a poor backpass but Krul's clearance was weak and allowed Young to drill the ball into the bottom corner.
There was still time for De Gea to make one more save, diving to his right to keep out Cisse's header from six yards, even then after the goal that came through no craft of their own, they were gifted the goal on a plate by Newcastle – they nearly threw it all away and needed a huge rub of the green to get even a point… never mind all three! How they managed to win that night I will never know!
2) Manchester United 2 Arsenal 1
Premier League, 29th August 2009
Arsene Wenger was sent from the dug-out in fury after Abou Diaby's own goal gifted Manchester United victory at Old Trafford and wrecked Arsenal's flawless start to the new season. Arsenal were on course for a fifth successive victory in domestic and European combat when Andrey Arshavin's magical finish gave them the advantage over the Premier League champions just before the interval. Arsenal keeper Manuel Almunia needlessly fouled Wayne Rooney after 59 minutes to allow the England striker to equalise from the penalty spot.
Van Persie then crashes the bar with an audacious freekick that deserved to fly into the back of the net before Diaby's calamitous own goal less than 30 seconds later see's a highly-anticipated encounter finally sparked into life after the break. United deserved to be 1-2 down, they deserved to be losing but a bit of luck and they vicariously found themselves leading by the most fortunate of circumstances when Diaby, in a moment from his nightmares, headed Ryan Giggs' free-kick into his own goal in front of an ecstatic Stretford End.  How lucky can one team get?
1) Manchester United 2 Bayern Munich 1
Champions League Final, 26th May 1999
It was a cruel blow for an FC Bayern München team who led for 85 minutes following Mario Basler's early free-kick and dominated thereafter. Dominated. United, sorely missing suspended duo Roy Keane and Paul Scholes simply could not seize control in midfield.
The English fans among a crowd of 90,245 began to doubt; Manchester United had not turned up. In Barcelona the United manager introduced Teddy Sheringham and then, with nine minutes remaining, Ole Gunnar Solskjær. With the finish line in sight cracks began to appear at both ends, Solskjær going close before Carsten Janker cracked the United crossbar with an acrobatic overhead kick, they were nearly 2-0 down to a magnificent goal. They deserved to lose, they were obliterated in Barcelona, and if that spectacular over-head kick was a few inches lower they would have played out a 2-0 defeat, which would have been deserved.
So near, yet so far for Bayern. The red and white ribbons already being attached to the trophy were not destined for them.
So near, yet so far for Bayern. The red and white ribbons already being attached to the trophy were not destined for them.
The stadium's digital clock showed 90 minutes as United won a corner. In it came and out it was cleared, but only as far as Ryan Giggs who hooked in a weak effort that fell perfectly for Sheringham to divert inside the post.
A mistake from a resolute German defence, who could have imagined such an error? Yet Sheringham's work was not done.
Two minutes later he rose to glance David Beckham's corner into the path of Solskjær who prodded in to spark delirious celebrations! To get a moment of luck like in the biggest match in club football, in the dying seconds of the game is unthinkable. For it to happen twice in only a matter of seconds? A complete fluke, something like this will never happen again in history, ever. And it had to happen to Manchester United didn't it? Typical!