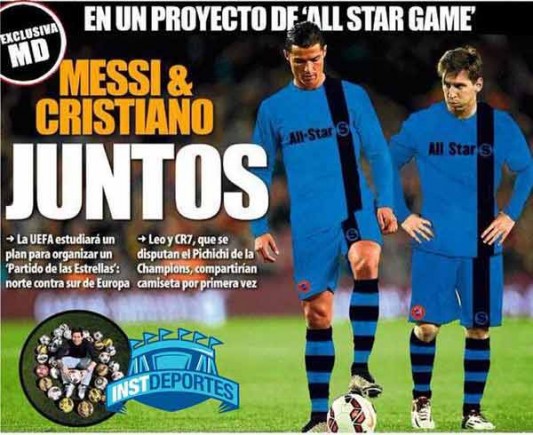 The Spanish newspaper El Mundo Deportivo has revealed the plan of UEFA to organise a friendly match between the stars of South and North Europe, and an idea came from the NBA famous All-Star competition, where only the best from leagues would be called. Two world best players, Cristiano Ronaldo and Lionel Messi on this way for the first time in history could play in the same team!
Lionel Messi and Ronaldo could line up on the same team this time, an event that never happened before. They can be lined up in the South Team of UEFA All Star alongside many other big names from La Liga, Ligue 1 or Serie A.
A multinational marketing company has suggested to UEFA to run a friendly game between the European sided stars, one team named as Northern Europe [players from English Premier League, Bundesliga etc.] and another one: Southern Europe (players from La Liga, Ligue 1 and Serie A ect.). A Friendly game which would be like the NBA All Star game that is held at the end of every season.
Both teams (players) might be picked up from an online voting , with the rule of not being able to choose more than 3 players from the same club. El Mundo Deportivo reports that the idea might take place on 2017 and Michael Platini have proposed the idea to many big clubs, including Chelsea, Barcelona and Real Madrid.
El Mundo Deportive gives some possible lineups if the game were going to be played this season which includes many big names, and some surprises, for an example, Man Utd's striker Wayne Rooney is not on the list.
Northern Europe : Neuer, Terry, Hummels , Alba – Robben, Di Maria, Silva, Reus, Sanchez, Aguerro, Hazard.
Southern Europe : Buffon , Tiago Silva, Pique , Ramos, Danilo, Neymar, Koke, Pogba , Messi, Cristiano Ronaldo, Ibrahimovic.