The Colombian journalist Vicky Davila announced via her Twitter profile that Uruguay football team are considering boycotting match of the eighth finals of the World Cup against Colombia.
"The delegate of Uruguay told me that the players are thinking about competing in the round of sixteen match against Colombia because Suarez suspension," wrote Colombian journalist.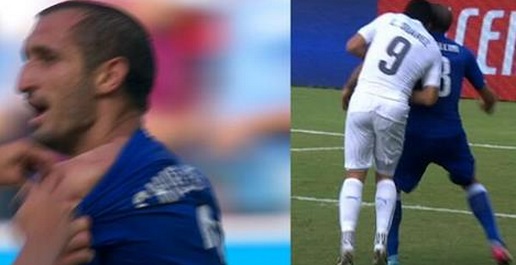 Uruguay FA has confirmed that it has decided to appeal after Luis Suarez received a four-month-ban on Thursday.

Uruguay FA has decided to appeal against the Suarez's four month ban after he bit Giorgo Chiellini in a World Cup group stage game on Tuesday. The match suspension will begin on the 28th June, when Uruguay play Colombia in the second round of the world cup.
Not only international games, but the Liverpool striker is banned for any football related activity. The statement read: "The player Luis Suarez is banned from taking part in any kind of football-related activity (administrative, sports or any other) for a period of four months."
The chairman of Fifa Disciplinary Committee, Claudio Sulser had to say "Such behaviour cannot be tolerated on any football pitch, and in particular not at a Fifa World Cup when the eyes of millions of people are on the stars on the field."
"The disciplinary committee took into account all the factors of the case and the degree of Mr Suarez's guilt in accordance with the relevant provisions of the code. The decision comes into force as soon it is communicated."
Soon after the announcement, Uruguay FA president announced that they will not accept Fifa's decision and will consequently appeal. He had to say ""We are preparing our appeal now, we have three days to do it," he told reporters.
"It is a severe punishment. I don't know exactly which arguments they used but it is a tough punishment for Suarez.
"It feels like Uruguay has been thrown out of the World Cup. We all know what Suarez means to Uruguay and to football around the world – not having Suarez would be a loss to any team."
Depending on the result of the appeal, it marks the end of Suarez's involvement in the World Cup in Brazil. Should the appeal fail, the striker then should have to miss the first twelve games of the premier league unless he moves away from Anfield this summer.
Uruguay have three days to collect evidence and submit the appeal.