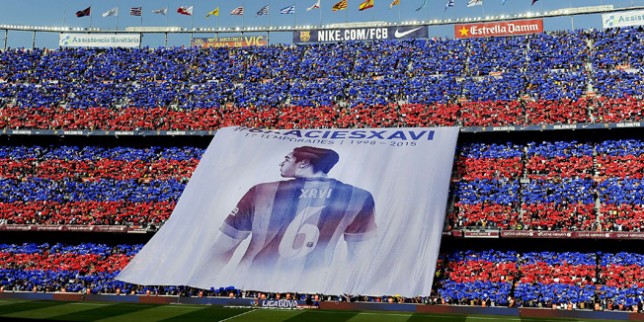 The last La liga round Barcelona played at Camp Nou against Deportivo La Coruna who was in need of points to survive La liga elimination. Vermaelen finally made his debut in Barca's jersey and Barca finished the game by playing 2-2. Lionel Messi scored two to give the lead to Barca, but an important draw Deportivo secured with goals of Lucas 67′ and Diogo Salomão 76′.
Regardless of the match, Barcelona captain and legend Xavi has made his final La Liga appearance and the fans at Camp Nou hung a huge mosaic of his captain that covered a large part of the lower stands.
Luis Enrique's men ran onto the pitch before the kick off wearing special t-shirts at which it was written "Gracies Xavi". During the game the fans chanted Xavi's name but a full standing ovation of 90,000 people at Camp Nou Xavi got in the 86th minute when Enrique pulled him off the pitch.
By the end of his career in Barcelona, where he is for 17 years, Xavi will play two more games, Champions League Final and the Copa del Rey Final. Xavi will end his football career in Qatar.
Xavi emotional in farewell press conference (Before the game)
As Xavi Hernandez calls time on his 17-year career at FC Barcelona, he reflects on his time with the club and his hopes that Barca can win the treble this season by adding the Copa del Rey and UEFA Champions League titles to their La Liga crown.
Post Match Interview