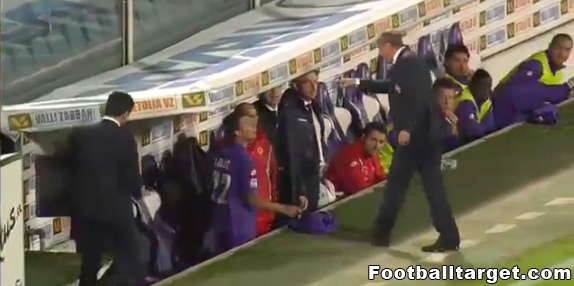 Viewers in Florence witnessed to rarely seen scenes on the bench of Fiorentina. Specifically, Fiorentina played against Novarro, after half an hour was losing 0-2, so a local coach Delio Rossi in the first part reached for the changes. First, from the game he took out a Serbian national team player Adam Ljajic, who responded with ironic clapping.Annoyed coach  then grabbed him by the jersey attacked him with his fists. It's lucky that footballer have been able to help calm situation  because who knows how that all would ended up ..
Fiorentina president Andrea Della Valle has sacked coach Delio Rossi, after he attacked their young player Adem Ljajic
'I made the decision to sack the coach for an act that was very serious. Tomorrow morning we'll talk calmly.
"I'm sorry for the coach who is a good person and does not deserve it, but tonight he committed a serious act."

or