On Tuesday Juventus sealed a big home 2-1 win in the first leg match of the Champions league semi-final against the Kings of Europe, Real Madrid, and the Bianconeri striker Carlos Tevez has scored a winner from the penalty spot.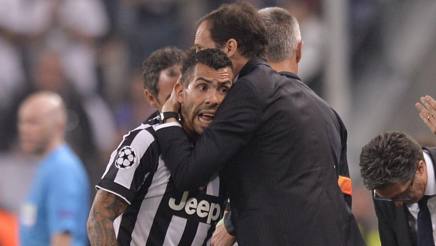 In the 86th minute during the same result 2-1. the Italian boss on the bench of Juventus, Massimiliano Allegri decided to close the game a little, pulling out Tevez and sending in another Argentinian player, the midfielder Roberto Pereyra.
This move Tevez obviously didn't like and as he walked off the pitch according to Ole, Tevez called Allegri "¡Cagón, puto!" (Coward! Son of a bitch!). It will be interesting to see will Tevez be fined for this words.
Tevez is the best goalscorer of Serie A and his contract with Juventus expires in 2016. The Italian champion wants to keep him at the club despite the desire of the Argentine to come back to Argentina, to Boca Juniors.