One of the Bundesliga round sixth matches is a derby game in Bremen. This match is a derby more because of the tradition between these two teams in some earlier years when they fought for the trophy, since last few year's Werder is just average German team, while Bayern are in full rush.
And at the beginning of this season Werder´s game is variable, while the Bavarians on the other side are trampling everything on their path.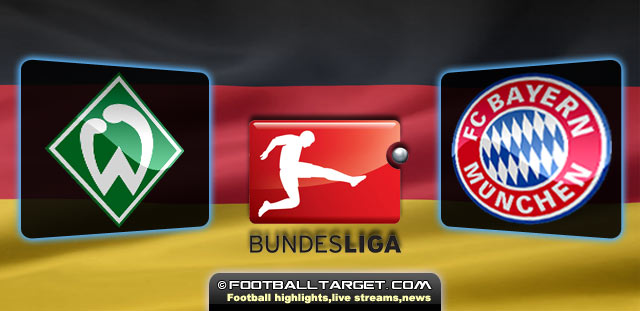 The last time Werder has celebrated was back in 2008th in Munich, while at home they did not beat Bayern since 2006th. The last three meetings Bayern has won, although Werder each time managed to score a goal.
Two wins, a draw and two defeats Werder pulled up so far this season,in which coach Schaaf mixed the team a lot,ut these team should play from the start.
Probable starting lineup of Werder: Mielitz – Gebre Selassie, Prodl, Sokratis, Fritz – Bargfrede – de Bryne, Hunt, Arnautovic, Elia – Petersen
Bayern absolutely doesn not have problem with oscillations, because this team plays consistently well from the start of the season, and coach Heynckes with it constantly is changing the team and so resting some players.
These is not a problem for the Bavarians,because Bayern dont just win,they trash their opponents.
Only Valencia in the Champions League passed with minimal loss, but Mandzukic failed to score from a penalty, so the result should been more than 2-1,based on what the team have shown on the pitch.All other matches until now Bayern has won with more than 1 goal difference.
Pretty impressive were the Bavarians last two victories,2-0 against Schalke in Gelsenkirchen,and at home 3-0 against Wolfsburg.The Croatian striker Mandzukic has put a real show and was a scorer of two goals to his former club, and now is the top scorer with five league goals.
For Bremen ,Bayern will certainly undergo changes again, so we should see Luiz Gustavo and Kroos in team, and maybe even Pizarro who could starts in attack instead Mandzukic, because he knows well knows Werder players with which he played until this season.
Probable starting lineup of Bayern Munich : Neuer – Lahm, Boateng, Dante, Badstuber – Luiz Gustavo, Schweinsteiger – Robben, Kroos, Ribery – Mandzukic (Pizarro).
Match Prediction : This could be a match with a lot of goals, even the bookies think so, but also we think we could forecast a winner and it will be Bayern ,who caught the rhythm and variable Werder hardly will stop them. Guests have a lot of solutions and excellent bench, which can tip the balance in this match.
Watch match Werder Bremen vs Bayern Munich online from our live stream section ,while match highlights and full match video will be available after the 90 minutes.