There is lots of reasons why nobody in the finals of Premier league doesnt gave any real chances to Man City.One of this reason is a schedule.Man United to the end,except city derby match with Man City has only two away matches against weak Wigan and friendly Sunderland.
This kind of finish is kind to Sir Alex Ferguson,and not matter how much Roberto Mancini conform it self with the words " If we manage to lose four points in two games,United can lose five in least seven of them " however this is not like to happen to Ferguson.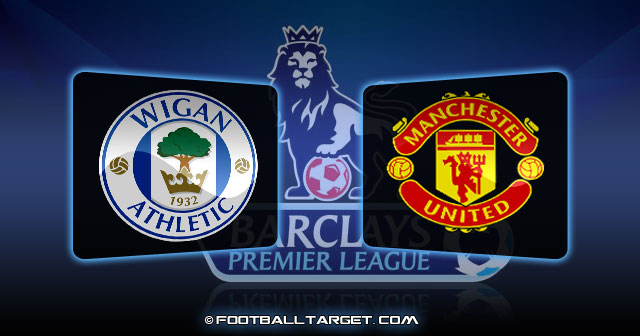 United lose some season,but never drop them,and we can see that on the last away match at Blackburn,where they with patience and wise game,came to all three points i so continue to half the point difference between them and City.Wigan after suprisely victory over Liverpool,their good form confirmed with a home win against Stoke City.That four reanimated there hope of surviving in Premier league.
Currently only the goal difference holds them on predzanjoj position,and chances for staying in Premier league are now real for them.They are above last placed team,Wolves,which also have 6 points less,and they are equal with Blackburn and QPR.In that group of "survivors" is Bolton,but he has three points more then these teams.Last match Wigan lose on away match against Chelsea with 2-1 with late goal of Juan Mata.
In last ten matches Wigan scored just two goals against United and concede 33 of them,but in their match history all matches won United.
Regards to formations and lineup with leader of Premier league,we doubt that coach Martinzes will change anything in first team,while out the match due the injuries are Jones and their striker Rodallega.
Wigan: Al Habsi – Alcaraz, Caldwell, Figueroa – Boyce, McArthur, McCarthy, Beausejour – Moses, Maloney – Di Santo
Regardless to great games which Wigan had in recent time,of course guest from Manchester are absolute favourites in this match,because they are in incredible good form and bouncing back to the first spot above city rivals Man City gave them extra confidence boost.Namely,Ferguson player manage to get 11 straight victories and just one draw,which brings them great 8 points above City,by which they are even now on the great way to win Premier league title once again.
To finish this season without any problems,they certainly must carry on in the same rhythm in this match with Wigan,who will certainly try do take any points from them in front of their supporters,especially when they lying in relegation zone.It means that Man Utd coach Alex Ferguson will sent the most ready players,where could be some changes in their attack.Hernandez could replace Welbeck.Goalkeeper Lindegaard,defender Vidic and midfielders Fletcher and Anderson are out due the injuries,and recovered Nani and Owen are probably be on the bench.
Man Utd probible lineup: de Gea – Rafael, Ferdinand, Evans, Evra – Valencia, Carrick, Scholes, Young – Rooney, Hernandez
Prediction : Both teams are on the great run of form,Man Utd especially,and winning habits seems to be in the blood of Ferguson footballers.Despite,their losing strike over Man utd of 14 games,Wigan is desperate to keep their chances for staying in Premier league.But,it would be really hard for them,in this match,so probably the winner will be Man Utd but,Wigan could score at least one goal.So both team to score will also be probably the best option here,or over 2.5 goals.