Pre Match : Capital One Cup – Arsenal vs Chelsea Live Streaming Online, Preview, Lineups
Watch Arsenal vs Chelsea  Online 
Watch Arsenal vs Chelsea Match Highlights & Full Match Replay will be available after the match
October 29, 2013 3:45 PM EDT
Emirates Stadium — London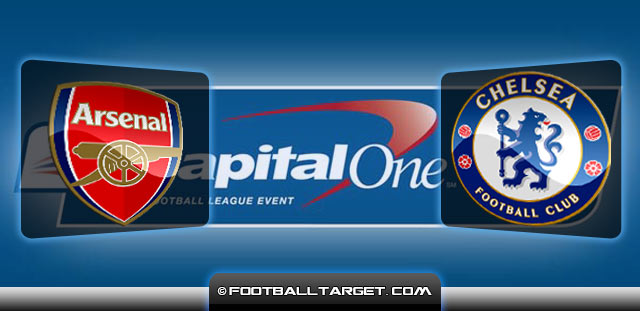 This week in England on the program are matches of the quarter finals of the Capital One Cup, and certainly the most interesting one that would be a one played at the Emirates Stadium between two city rivals Arsenal and Chelsea.
This match is even more and more important when we know that just these two teams are currently at the top of the Premiership, but the "Gunners" have a two point advantage. On the other hand, the "Blues" have won the last year´s two Premier league matches.
While Mourinho´s side have celebrated in the last round of the Champions league, Wenger´s side have lost a home match against Borussia Dortmund , so Wenger will be delighted with the result here.
As for Premier league, both teams manage to win in the last round, Arsenal over Crystal Palace 2-0 and Chelsea over Manchester City, thanks to Torres´s late goal.
Wenger wants a trophy, the Gunners fans too, and Jose Mourinho is aware of it, so he expects almost a first lineup of Arsenal.
Wenger usually uses this competition to give their young players a chance , but Mourinho thinks that Arsenal manager now change it.
"I think that Wenger will perform with a stronger team , because they play with Chelsea , and Arsenal wants to try to win the trophy , " said Mourinho
" Capital One Cup is the first that can win in the season , and we have given only a day to rest , and they had two days".
" What I mean is unknown . Because Arsenal has not won a trophy for a long time , they do it to drain us before the game or is it coincidence ? . One team plays at 12:30 on Saturday , the second game at 4 PM on Sunday. "
It would be hard thing to predict the possible lineups for this match, because both managers would certainly mix things, but something like this is more or less what we can expect .
Probable starting lineup of Arsenal: Fabianski – Jenkinson, Vermaelen, Koscielny, Monreal – Arteta, Wilshere – Gnabry, Rosicky, Cazorla – Bendtner
Probable starting lineup of Chelsea: Schwarzer; Azpilicueta, Cahill, Luiz, Bertrand; Mikel, Essien (C); De Bruyne, Mata, Willian; Eto'o.