AC Fiorentina have signed Chelsea winger Mohamed Salah on a season-long deal while at the same time The Italian club sold The Colombia international, Juan Cuadrado to Chelsea for reportedly around £26m.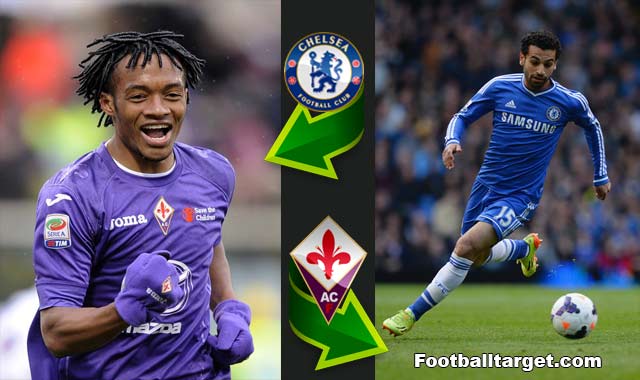 After struggling to get the minutes on the pitch, only three appearances in the Premier League, all coming off the bench, The 22-year-old attacker, Salah who joined Chelsea FC from Basel FC for £11 million last January, decided to go on a loan to Serie A club, hoping to revive his career. With less competition on his place and Cuardado going other way, Salah should do exactly that.
Salah joins ACF Fiorentina! http://t.co/h5FJu1rnjr @22mosalah #ACFFiorentina #MohamedSalah pic.twitter.com/ckmmZisCff

— ACF Fiorentina (@acffiorentina) February 2, 2015
Colombian attacker Juan Cuadrado completed his protracted transfer from Fiorentina to Chelsea as the transfer deadline loomed on Monday.
Speaking about the deal Cuadrado – Salah last week, Fiorentina boss Vincenzo Montella said: "It was a sale that had to be done. The club has done the right thing because we are also getting a very good player in return.
"Naturally, we need to understand how long he [Salah] will need to adapt to our football as it's different from the English and Swiss leagues. From a defensive standpoint, Cuadrado guarantees us a lot more than Salah."
As we reported last week, Chelsea have completed signing of The Colombia International, Juan Cuardado.
Welcome to Chelsea, @Cuadrado! #CFC pic.twitter.com/AQAXtAhAKD

— Chelsea FC (@ChelseaFC) February 2, 2015