Preview of France representation at the European championships, Laurent Blanc brought some new things, Tricolori are again a powerful team..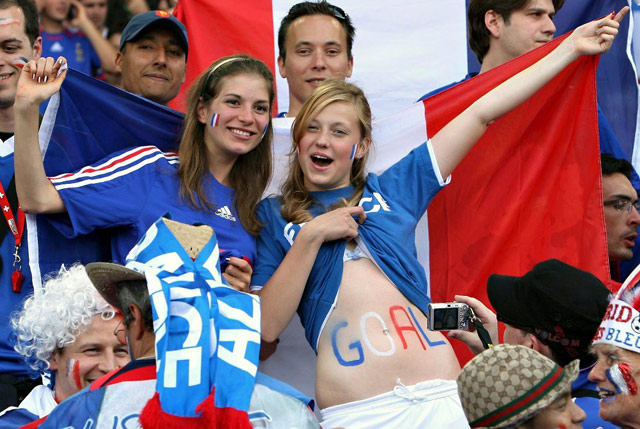 France road to Euro 2012
The French were placed on the Euro as the first placed team of the fourth-qualifying group, where in the duels with Bosnia and Herzegovina, Romania, Belarus, Albania and Luxembourg entered six wins, three draws and a defeat, winning 21 of 30 points.
Tricolori have opened the cycle with a shocking home defeat against Belarus (1-0), after which they enter four consecutive victories, beating with a 2:0 Bosnia and Herzegovina in Sarajevo, Romania in Paris (2:0) and twice Luxembourg with the same result.
That Belarus really don't lying to this French team showed up in June last year in Minsk, where the match ended 1:1. In September, France was defeated in Tirana, and then in Bucharest enrolled, a new draw.
In the penultimate match with 3-0 fell Albania, and in the last round duel against Bosnia and Herzegovina in Paris these two teams have decided about direct traveler to the Euro. Bosnia has led to 80 minute with goal of Dzeko, and then Nasri from the penalty brought France in the Poland and Ukraine.
Title of the best French scorer in the qualification carry three players with three goals – Karim Benzema, Yoann Gourcuff and Florent Malouda.
France history at European Championships
France has participated in seven continental championships and is the only country besides the triple champion Germans, who more than once won the European title.
The first time it was the 1984th at home when they in the semifinals with Platini´s goal eliminated Portugal in the extra time, then at Princes Park in the finals they celebrated against Spain with a 2-0 and the second time eight years ago in Belgium and the Netherlands.
After they in 1998. become world champions in the semifinals by beating Croatia in the semifinals and in the fight for gold Brazilians, French golden generation two years later to World added and the European title.
Led by FIFA Player of the Year Zinedine Zidane and under the Roger Lemerrea, the French in the final game against the Italians won 2-1 with goals from David Trezeguet and Sylvian Wiltord.
At the European Championship in Portugal they reached the quarter-finals where they were surprising defeated by the later winner Greece.
At the last European Championship French completely embarrassed themselves. In the group with Netherlands, Italy and Romania they have won the last place. They drew 0-0 with the Romanians, lost 4-1 from Netherlands and in the final round with a 2-0 from Italy. It was the worst performance of some French generation from the first Euro competition,back in 1960 year.
Coach : Laurent Blanc
Laurent Blanc had a brilliant playing career, among other things, he was wearing the jersey of Montpellier, Napoli, St. Etienne, Barcelona, Marseille, Inter Milan and Manchester United. Blanc retired in 2003. as a 38-year-old.
As a player he won the championship of France and England, two French and one Spanish Cup as well as the Cup Winners Cup.Blanc played for the national team of France's in 97 appearances where he add 16 goals.With France he won World and European Championships.
With the coaching career he began in the 2007th at Bordeaux, who he led for the three seasons. He won the French Cup and League Cup, a 2010. years after the World Cup in South Africa was followed a call from Tricolori.
Bordeaux Blanc led in 150 games, achieving 90 victories, and the national football team of France in 22 duels, achieving score of 14 wins, six draws and two defeats.
Team star : Frank Ribery
When Domenech presented him 2006th as the heir of Ludovic Guilly most was surprised by the move of distinctive coach, but two years later Bayern midfielder was one of the best footballers in the world.
After he in six years changed as many clubs (Boulogne, Ales, Brest, Metz, Galatasaray, Marseille), Ribery finally 2007th is settling in the Bayern Munich, where he experienced the full recognition and showed how much he worth.
A perfect assistant and often deadly dangerous to the net, 29-year-old Ribery is the perfect prototype of the modern midfielder, quick, strong in the duel, with a maximum technique and he is excellent in the defensive part.
In the jersey of the Munich club Ribery has so far played 194 matches and scored 68 goals with 99 assists in all competitions. He won two German championships, Cup, League Cup, and has twice played the Champions League final.
For the national team he made his debut 2006th year and in the last six years he played 59 games, scoring nine goals. 2006th in Germany he played in the World Cup finals.
What to expect from France on Euro 2012
France will play at UEFA EURO in 4-2-3-1 formation, and on the ground it should look like this Lloris – Clichy / Evra, Mexes, Rami, Revelliere – Vila `M *, Cabaye – Ribery, nasry, Malouda, Benzema.
The French are in a panic because for the Euro they have already lost Remy, Kaboul, Gourcuff and Mbiwu, and on the last training injured their important player of midfield M `Vila.
Detailed analysis will tell just how serious is his injury. Blanc have available young and very talented team that may not have much experience at big competitions, but have a great hunger for success and trophies.
France is not among the favorites for the title, but they may be the most pleasant surprise, if Tricolori, the double European and World champions can even pose as a potential surprise.
As always, much will depend on the mood of Frank Ribery, and if he found one, French 1/8 finals definitely should not miss.
France Euro 2012 fixtures,group D
11 June – England (Donetsk)
15 June – Ukraine (Donetsk)
19 June – Sweden (Kiev)
France squad for Euro 2012
Goalkeepers: Hugo Lloris (Lyon), Steve Mandanda (Marseille), Cedric Carrasso (Bordeaux)
Defense: Gaël Clichy (Arsenal), Mathieu Debuchy (Lille), Patrice Evra (Manchester United), Laurent Koscielny (Arsenal), Philippe Mexes (Milan), Adil Rami (Valencia), Anthony Reveillere (Lyon)
Midfielders: Hatem Ben Arfa (Newcastle), Yohan Cabaye (Newcastle), Alou Diarra (Marseille), Yann M'Vila (Rennes), Marvin Martin (Sochaux), Florent Malouda (Chelsea), Blaise Matuidi (PSG), Samir Nasri (Manchester City), Franck Ribery (Bayern Munich)
Forwards: Karim Benzema (Real Madrid), Olivier Giroud (Montpellier), Jeremy Menez (PSG), Mathieu Valbuena (Marseille)
Watch all France matches on Euro 2012 from ours live stream section.
Euro 2012 : England profile preview
Euro 2012 : Netherlands profile preview
Euro 2012 : Germany profile preview
Euro 2012 : Spain profile preview
Euro 2012 : Italy team profile preview
Want to add some spice on the Euro ? Bet at home is offering a € 200 bonus.Check it out.