Chelsea For the first time in history, has won the European title. After 120 minutes of play the match finished 1-1, but after performing penalties,Chelsea grab their first title of European club champions.
Where to start writing this !? What a match,but in the end once again God of Fortune was clearly on the Chelsea´s side.This is not a first time.Probably after the group stage,Fortune God start to smile to Chelsea.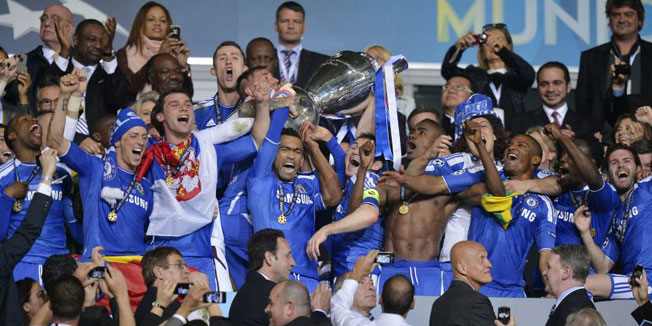 The host,Bavarians the match opened furious.They put a lots of pressure on Chelsea´s defence which occupied Luiz and Cahill after a month without playing.
Domination from the first half maybe best shows the fact that Chelsea have only one chance,but Bayern attacks were constantly stunted by Chelsea´s defence.
Second half Chelsea switch the strategy,logically,with one goal they could change things,so they opened up more,and had lots of good chances like the Bavarians.The game was played,like there was no midfield to found,the ball was switching side from one goal box to another,but either team managed to score.
And then,Epic last ten minutes.First Bavarians in the 83rd minute took the lead over Thomas Muller.The cross comes in from the left again from Schweinsteiger, it finds Muller who has pulled away from Cole. He heads into the ground and the bounce does for Cech – the ball finding the roof of the net.
But,Chelsea hasn't told their last words in this game,and who else then Didier Drogba pulled one in,and equal the result in the  89th minute,which seems to be Chelsea´a usual time to score.
With no winner in 90th minute,teams went to extra time,where both of them had their chances,but perhaps the tragedian of the game will be A.Robben who miss the penalty.
Chelsea withstood Bavarians attempts and the game reach the Penalties lottery where Juan Mata miss the first series of Chelsea,and until the fourth round of penalties,Bayern was closer to the trophy.And,then,Ivica Olic steps in,shoot,Cech saves ,and A.Cole for Chelsea scores.
Fifth and decisive round,opens Schweinsteiger but he hit the post.Bavarians are in shock.Drogba steps in and score.
To Bayern,even the playing at their Allianz Arena  did not help,Chelsea won their first Champions league title in their history,while Bayern Munich stayed at 4 titles of the best European team.
Highlights :
Bayern Chelsea Penalties