Two of the most famous national teams of all time renew their rivalry tonight in a friendly international. While the rest of the nations battle it out in intense World Cup qualifiers, the Brazilians are in the fortunate position to have qualified as hosts of the 2014 tournament and they've certainly upped the ante in recent months with their friendly opponents having just taken on the English at Wembley.
The Italian side hasn't beaten their South American rivals in more than thirty years, with one stand-out opportunity remaining firmly engrained in the memories of all Italians. Cast your minds back, if you're old enough (I sadly am), to USA 1994, the first World Cup to be held in North America, and the Final. Brazil and Italy stepped out in California seeking to land the title of World Champions and after 120-minutes, they still couldn't find the goal let alone a winner!
As a result, a penalty shoot-out was needed to settle it. Up steps the pony-tailed star of Italian football, Roberto Baggio. A legend not only in his home land, Baggio was a striker of the same sort of reputation as the likes of Drogba, Torres, Rooney and co are in the UK today.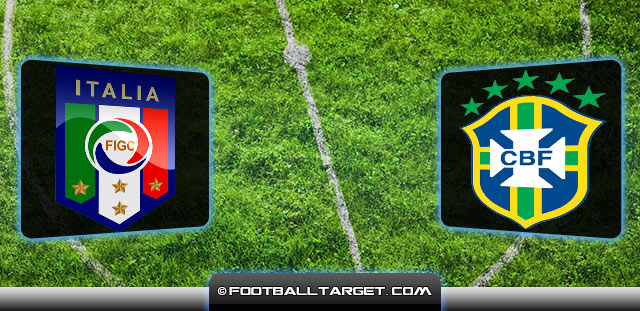 In the shoot-out, the Brazilians took a 3-2 lead, meaning Baggio quite simply had to score. With the long walk from the halfway line possibly the longest of his life, Baggio finally placed the ball on the spot, stepped away, ran up and almost inconceivably blazed his penalty into the Californian crowd, handing the World Cup to Dunga and Brazil.
As kids, you're always taught to hit the corners and many will spend hours in the back garden or at training slotting the ball into the corner of your home or club , pretending you're one of the legends of the game; but Baggio's drilled effort was certainly not one you learn on a training ground.
Since then the Italians have been hurting, and only the victory in the final of the 2006 World Cup reduced that heartache. While a friendly isn't going to help them forget the torment of 1994, it might at least help them to feel they're still on a par with the Samba stars who now feature the likes of the "next big thing" Neymar in their line-up.
The Italians have plenty of stars in their side too, with the likes of Dannielle de Rossi running the midfield and the very hit-or-miss Mario Balotelli up front. In front of a home crowd, expect the Italians to give the Brazilians a match of qualification if not tournament standard.
Italy coach Cesare Prandelli looks ahead to their international friendly with Brazil.
Cesare Prandelli, Italy manager (on if Italy are favourites to beat Brazil):
"We would be pushing it if we said we are favourites against Brazil. They are trying to find a new identity, but they haven't lost their spirit. We will playing against a team that has different ways of playing and with extraordinary qualities. So we are not the favourites, but I think we can make their lives difficult on the pitch tomorrow. We too are looking for a new style, in continuity with our way of playing, so in that regard it will be an interesting game."
Cesare Prandelli, Italy manager (on Brazilian striker Neymar):
"Italian journalists asked me the same question this morning and I told them that he (Neymar) is a modern striker, at world class level and he is a very interesting player. Whether you look at his technical qualities and his understanding of the game, he is able to change the flow of a game, to attack even without the ball."
Luiz Felipe Scolari, Brazilian coach:
"I think Italy is among the 6 teams who stand higher chances to win the World Cup title in 2014. Italy has dramatically renewed its team, with good athletes, yet it has remained true to its traditional way of playing."
Probable lineups :
Italy : Buffon;Barzagli, Bonucci, Ranocchia;Pirlo;Abate, Marchisio, Montolivo, Giaccherini;Balotelli, El Shaarawy
Brazil : Julio Cesar;Dani Alves, David Luiz, Thiago Silva, Filipe;Fernando, Luiz Gustavo;Hulk, Oscar, Neymar;Fred
Match Prediction : When you see Hulk,Oscar,Neymar on one side,and Mario Balotelli, El Shaarawy on the other side a chance that this match finish with less than 2,5 goals is really slim.So, over 2,5 goals or both teams to score.