The Scottish manager, DAVID MOYES said that Manchester United are preparing for their summer transfer moves now to try to sign some players on his wish list before the start of the World Cup. The reason is simple, their price could go only higher.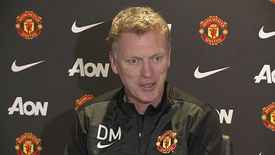 For months now, Arsenal is trying to capture the German "wonderkid" Julian Draxler from Schalke 04, but Gunners deal could spoil another English club, Manchester United.
Specifically, David Moyes is preparing a major reconstruction of the team which occupy only the 7th place in the English Premier league, and the English media claim that Manchester United could offer 37 million pounds for Schalke's Draxler.
United scouts watched Draxler last Friday, in his brilliant performance against Augsburg, against whom he had the assistance for one of the two goals of Klaas-Jan Huntelaar..
In addition to Draxler, Manchester United is reportedly very close to land the midfielder from Borussia Dortmund İlkay Gündoğan.
As this is not enough, David Moyes focused on more players in Bundesliga, as on the list there are few other stars , Toni Kroos from Bayern Munich and great Dortmund winger Marco Reus.
Asked about Man Utd transfer moves before the World Cup, Moyes responded :
"Yeah, I might do. We are getting ourselves prepared now.
"We can't do an awful lot until the end of the season but we will prepare as much as possible.
"You don't always get all your ducks in a row but we will try to get as many of them as we can.
"I know it has been difficult for a lot of people to accept and understand what is going on but we will make changes.
"We have said that now and everyone is well aware of it."