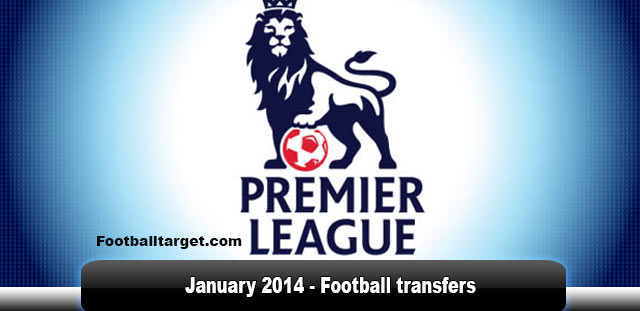 Premier league transfer period for January 2014 ended. To sum all up, we feel the clubs could do better especially the big ones. Known for the last minutes deadline drama, clubs like Chelsea, Manchester United & City , Liverpool and ever Wenger's Arsenal left fans over the world dry. No big names, no big transfers in the last day of transfer window in January.
From earlier, Juan Mata signed for Manchester United, Chelsea sealed Saint-Étienne defender Zouma, and names like Tony Kross, Diego Costa and similar which were linked with Chelsea and Manchester United, for now, we guess until the summer stayed in their clubs. However there were some good transfers, while Liverpool until the last minute way trying to capture
Konoplyanka, but the Reds fail to reach deal.
Here is a full list of all Premier league & championship transfers for January 2014
Date        Player/Position               TO                      FROM             Contract
1/31/14

Gäel Kakuta

Midfielder

Lazio
Chelsea
Loan
1/31/14

John Heitinga

Defender

Fulham
Everton
Full Ownership
1/31/14

Pablo Armero

Defender

West Ham United
Napoli
Loan
1/31/14

Philippe Senderos

Defender

Valencia
Fulham
Full Ownership
1/31/14

Dimitar Berbatov

Striker

Monaco
Fulham
Loan
1/31/14

Gäel Kakuta

Midfielder

Lazio
Chelsea
Loan
1/31/14

Scott Dann

Defender

Crystal Palace
Blackburn Rovers
Full Ownership
1/31/14

Federico Macheda

Striker

Birmingham
Man Utd.
Loan
1/31/14

Pablo Daniel Osvaldo

Striker

Juventus
Southampton
Loan
1/31/14

Tyler Blackett

Defender

Birmingham
Man Utd.
Loan
1/31/14

Thomas Joseph Thorpe

Defender

Birmingham
Man Utd.
Loan
1/31/14

Kevin Doyle

Striker

QPR
Wolves
Loan
1/31/14

Samba Diakité

Midfielder

Watford
QPR
Loan
1/31/14

Konstantinos Mitroglou

Striker

Fulham
Olympiakos
Full Ownership
1/31/14

Jason Puncheon

Midfielder

Crystal Palace
Southampton
Full Ownership
1/31/14

Wayne Hennessey

Goalkeeper

Crystal Palace
Wolves
Full Ownership
1/31/14

Daniel Boateng

Defender

Hibernian
Arsenal
Loan
1/31/14

Craig Conway

Midfielder

Blackburn Rovers
Cardiff
Full Ownership
1/31/14

Kurt Zouma

Defender

AS Saint-Etienne
Chelsea
Loan
1/31/14

Kurt Zouma

Defender

Chelsea
AS Saint-Etienne
Full Ownership
1/31/14

Modibo Diakite

Defender

Fiorentina
Sunderland
Loan
1/31/14

Emmanuel Frimpong

Midfielder

Barnsley
Arsenal
Full Ownership
1/31/14

Lewis Holtby

Midfielder

Fulham
Tottenham
Loan
1/31/14

Fabio Da Silva

Defender

Cardiff
Man Utd.
Full Ownership
1/31/14

Wilfried Zaha

Midfielder

Cardiff
Man Utd.
Loan
1/31/14

Aaron Hughes

Defender

QPR
Fulham
Loan
1/31/14

Adel Taarabt

Midfielder

Milan
Fulham
Loan
1/31/14

Liam Bridcutt

Midfielder

Sunderland
Brighton
Full Ownership
1/30/14

Joseph Yobo

Defender

Norwich City
Fenerbahce
Loan
1/30/14

Nathan Delfouneso

Striker

Coventry
Aston Villa
Loan
1/30/14

Alfred N'diaye

Midfielder

Betis
Sunderland
Loan
1/30/14

George Thorne

Midfielder

Derby County
West Brom
Loan
1/30/14

Daniel Fox

Defender

Nottingham Forest
Southampton
Loan
1/30/14

Raheem Hanley

Midfielder

Swansea City
Blackburn Rovers
Full Ownership
1/30/14

Benik Afobe

Striker

Sheffield Wednesday
Arsenal
Loan
1/30/14

Abdul Razak

Midfielder

West Ham United
Anji Makhachkal
Full Ownership
1/30/14

Ignacio Scocco

Striker

Sunderland
Internacional
Full Ownership
1/30/14

William Kvist Jörgensen

Midfielder

Fulham
VfB Stuttgart
Loan
1/30/14

Daniel Fox

Defender

Nottingham Forest
Southampton
Full Ownership
1/29/14

Luuk de Jong

Striker

Newcastle United
Mönchengladbach
Loan
1/29/14

Yohan Cabaye

Midfielder

PSG
Newcastle United
Full Ownership
1/28/14

Kenwyne Jones

Striker

Cardiff
Stoke City
Full Ownership
1/28/14

Peter Odemwingie

Striker

Stoke City
Cardiff
Full Ownership
1/27/14

Maurice Edu

Midfielder

Philadelphia Union
Stoke City
Loan
1/27/14

David Ngog

Striker

Swansea City
Bolton
Full Ownership
1/27/14

Nicholas Yennaris

Midfielder

Brentford
Arsenal
Full Ownership
1/27/14

Michael Essien

Midfielder

Milan
Chelsea
Full Ownership
1/26/14

Mohamed Salah

Striker

Chelsea
Basel
Full Ownership
1/25/14

Juan Mata

Striker

Man Utd.
Chelsea
Full Ownership
1/25/14

Marco Borriello

Striker

West Ham United
Roma
Loan
1/25/14

Marco Borriello

Striker

West Ham United
Roma
Loan
1/25/14

Antonio Nocerino

Midfielder

West Ham United
Milan
Loan
1/24/14

Bradley Orr

Defender

Toronto FC
Blackburn Rovers
Loan
1/24/14

Lacina Traore

Striker

Everton
Monaco
Loan
1/23/14

Josh McEachran

Midfielder

Wigan Athletic
Chelsea
Loan
1/22/14

Billy Sharp

Striker

Doncaster
Southampton
Loan
1/21/14

Rubén Rochina

Striker

Rayo Vallecano
Blackburn Rovers
Loan
1/21/14

Óscar Ustari

Goalkeeper

Sunderland
Almeria
Free Transfer
1/20/14

Santiago Vergini

Defender

Sunderland
Estudiantes
Loan
1/20/14

Tiago Ilori

Defender

Granada
Liverpool
Loan
1/18/14

Kevin De Bruyne

Midfielder

Wolfsburg
Chelsea
Full Ownership
1/18/14

Anderson

Midfielder

Fiorentina
Man Utd.
Loan
1/17/14

Shane Long

Striker

Hull
West Brom
Full Ownership
1/17/14

Ryan Bertrand

Defender

Aston Villa
Chelsea
Loan
1/16/14

Dong-Won Ji

Striker

FC Augsburg
Sunderland
Loan
1/16/14

Nathaniel Chalobah

Defender

Middlesbrough
Watford
Loan
1/16/14

Nathaniel Chalobah

Defender

Watford
Chelsea
Loan
1/16/14

Aaron Mclean

Striker

Bradford
Hull
Full Ownership
1/15/14

Nikica Jelavic

Striker

Hull
Everton
Full Ownership
1/15/14

Kevin Phillips

Striker

Leicester City
Crystal Palace
Free Transfer
1/15/14

Nemanja Matić

Midfielder

Chelsea
Benfica
Full Ownership
1/15/14

Bryan Ruiz

Striker

PSV
Fulham
Loan
1/14/14

J. Agudelo

Striker

Stoke City
New England
Full Ownership
1/14/14

Grant Holt

Striker

Aston Villa
Wigan Athletic
Loan
1/14/14

Stephen Ireland

Midfielder

Stoke City
Aston Villa
Full Ownership
1/14/14

John Guidetti

Striker

Stoke City
Manchester City
Loan
1/13/14

Jonas Gutierrez

Norwich City
Newcastle United
Loan
1/11/14

Aiden McGeady

Midfielder

Everton
Spartak Moscow
Full Ownership
1/9/14

Cabral

Midfielder

Genoa
Sunderland
Loan
1/9/14

Cameron Stewart

Midfielder

Leeds
Hull
Loan
1/9/14

Chuba Akpom

Striker

Brentford
Arsenal
Loan
1/7/14

Kenneth Omeruo

Defender

Middlesbrough
Chelsea
Loan
1/7/14

Kenneth Omeruo

Defender

Chelsea
Den Haag
End of Loan
1/6/14

Roger Johnson

Defender

West Ham United
Wolves
Loan
1/6/14

Patrick Bamford

Striker

Derby County
Chelsea
Loan
1/3/14

Shaquile Coulthirst

Striker

Leyton
Tottenham
Loan
1/3/14

Simon Dawkins

Striker

Derby County
Tottenham
Full Ownership
1/2/14

Billy Sharp

Striker

Southampton
Reading
End of Loan
1/2/14

Rudy Gestede

Striker

Blackburn Rovers
Cardiff
Full Ownership
1/2/14

Tom Cairney

Midfielder

Blackburn Rovers
Hull
Full Ownership
1/2/14

Gäel Kakuta

Midfielder

Chelsea
Vitesse A
End of Loan
1/2/14

Sam Hutchinson

Defender

Chelsea
Vitesse A
End of Loan
1/2/14

Bertrand Traore

Midfielder

Vitesse A
Chelsea
Loan
1/1/14

Marcos Alonso

Defender

Sunderland
Fiorentina
Loan
12/24/13

Clint Dempsey

Midfielder

Fulham
Seattle Sounders FC
Loan
12/12/13

Yossi Benayoun

Midfielder

QPR
Inactive
Inactive / Unemployed
11/28/13

Nicholas Yennaris

Midfielder

Bournemouth
Arsenal
Loan
11/28/13

William Keane

Striker

Wigan Athletic
Man Utd.
Loan
11/28/13

Harry Bunn

Striker

Huddersfield Town
Manchester City
Loan
11/28/13

Haris Vuckic

Midfielder

Rotherham United
Newcastle United
Loan
11/28/13

Shay Given

Goalkeeper

Middlesbrough
Aston Villa
Loan
11/28/13

Michael Keane

Defender

Derby County
Man Utd.
Loan
11/22/13

Héctor Bellerín

Defender

Watford
Arsenal
Loan
11/22/13

Neil Etheridge

Goalkeeper

Crewe Alexandra
Fulham
Loan
11/15/13

Ben Amos

Goalkeeper

Carlisle United
Man Utd.
Loan
11/1/13

Connor Wickham

Striker

Sheffield Wed.
Sunderland
Loan