April 25, 2012 2:45 PM EDT
Estadio Santiago Bernabéu — Madrid
Match : Real Madrid vs Bayern,Champions league
Intro : Bayern travel to Madrid with just one goal advantage, but rested and ready. In the win over Bremen coach Heynckes rested Robben and gave a little running around to Ribery, who showed that he is in great shape. To contrast, Real players spend themselves far more in the win over Barcelona.
On Saturday in the locker rooms of Real Madrid and Bayern different moods have prevailed. Real Madrid with a victory in Barcelona secured the title of Spain champion , Bayern Munich, despite winning in Bremen lost the title. But over that they get over probably when they were defeated in Dortmund, then it was already clear that Borussia will defend advantage. And can Bayern defend one goal advantage from Munich? The impression is – if they will not defend it.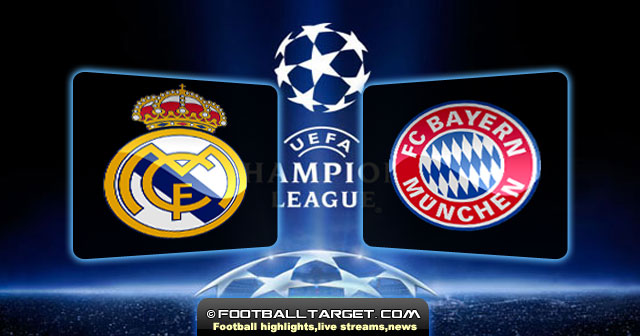 Bayern have too many offensive "weapons" to defend, and Real is so powerful that such a tactic in Madrid certainly bounce back to Bavarians on the head. Ronaldo and Benzema are in great shape, but Robben and Ribery are also destroying all in front of them. The public believe more to the Royal club, but to remember the old saying of Gary Lineker: "Football is a beautiful game played by 22 players, and eventually German´s win.
After this match we will found out and second Champions League finalist, and result from the first game was such that there is absolute uncertainty about the final winner. These 2-1 (Bayern Munchen – Real Madrid Full Highlights) in Munich are in fact the only result which not favours any team here. Real Madrid was the favorite, but still he is far behind, while Bayern has the advantage, but also received a goal at home. Better mood ahead of the match is definitely in the "Royal Club" and the reason is the of course match in Barcelona. In the last three mutual duel in Madrid, Real Madrid has won every time, but the last time was 3:2, and with this result , the Bavarians will go to the finals…
Real Madrid footballers have finally succeeded and Barcelona is at the knees  ( Barcelona 1-2 Real Madrid Highlights). One can not say that this is the sweetest victory over big rival, but it is certainly among the best ones, because it happened when many of them did not believe it could happen at the Nou Camp, and most importantly, it resolve all doubts about the title winner. After a series of defeats this season Real get closer to Barcelona and played better against them at Cup and Super Cup matches, and now they are finally managed to do the same in La Liga. They started match excellent,were more dangerous and took the lead.

The second goal has scored in the moments when all expect from them to concede another goal, and the scorer was Cristiano Ronaldo. All this absolutely raised confident of Real Madrid to the highest level and they are now even more powerful and more dangerous for any opponent.
As for the first leg in Munich however, it can by said that they owe, but they had excellent 1:1 until the very end, and must not be forgotten that followed the match in Barcelona. Coach Mourinho in Munich and Barcelona has sent to the pitch exactly the same composition, and for announcing this match, it means they are not injured players.
Real Madrid probable lineup : Casillas – Arbeloa, Pepe, Sergio Ramos, Fabio Coentrao – Khedira, Xabi Alonso – di Maria, Ozil, C.Ronaldo – Benzema.
As for Bayern, no euphoria was present, but quite the opposite. Although it became clear some ten days ago when they lost the match in Dortmund (Dortmund – Bayern full highlights) that the title of league champions is lost for them , only on Saturday it was definitely confirmed. For the second year in a row they have failed and that is when it comes to Bayern Munich very bad, so now the situation can save only the Champions League, while the DFB-Pokal remains as a consolation prize, and only if Borussia doesn't take that from them as well.
It can be said they have bravely played the first game against Real Madrid , but the final result is still good just because Gomez scored in the last minutes. Otherwise, 2-1 before the Santiago Bernabeu almost is not some advantage, except perhaps psychological. The advantage is that they were aware that are losing league title, so the coach Heynckes on Saturday against Werder Bremen send completly changed lineup. Only Neuer, Luiz Gustavo and Schweinsteiger were in the team and have played against Real Madrid.
As expected, they did not play well, so Werder took the lead, and then in the last half hour Heynckes has sent in the game,Kroos, Ribery and Gomez, who played well and forced the opponents to score own goal and then he scored the winning one, interestingly again in the final moments of the match ( Werder – Bayern highlights ). Bayern will play a second leg match with Real Madrid exactly with the same composition as in Munich, but hope remains for the fans of this club that the two best player Robben and Ribery, resolve their differences.
Bayern probable lineup: Neuer – Lahm, Badstuber, Boateng, Alaba – Luiz Gustavo, Schweinsteiger – Robben, Kroos, Ribery – Gomez.
Prediction : Hosts should win, but even without that, Real would certainly attack from the first minute, because otherwise they do not know how to play, especially when they are hosts. The question is what Bayern Munich will make , according to us, they could be able to score. In this case, we will definitely on the "Santiago Bernabeu" see a goal galore.So over 2,5 goals.