Estadio Santiago Bernabéu — Madrid
Watch Supercopa live: Real Madrid – Barcelona ,Live stream,Preview,Lineups,Highlights
August 29, 2012 4:30 PM EDT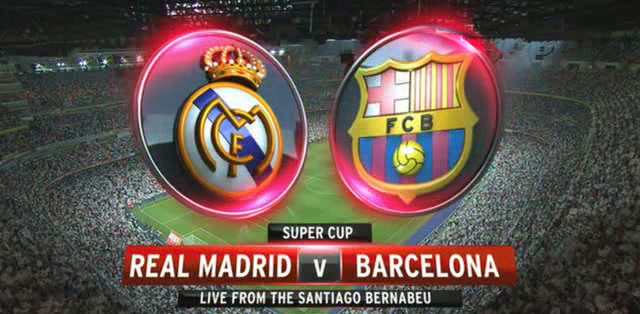 Tonight on schedule is the second season's El Clasico match,which you can watch live online from ours live streams for free.This rematch of the Spanish Supercup match will reveal who will win the first trophy of the season's in Spain.
The second of at least four "El Clasico" matches this season somewhat unexpectedly gets a much greater significance than usual.It is known that Real Madrid and Barcelona in their mutual encounters always want to win, but matches in the Super Cup are not so valuable, however Real in three matches this season failed to win any of them, and such a start of the season did not happen for a long time, while Barcelona as expected started with three victories.
One of them was with 3:2 in the first match against Real Madrid at the Nou Camp in a match that did not bring some beautiful football, and it was marked with some referee´s mistakes as well as the mistakes of Barca´s goalkeepr Victor Valdes.

However, it is seen five goals and everything is completely open ahead of the rematch at the Santiago Bernabeu.
In Madrid, alarm is on. Real Madrid for a long time did not have such a poor opening of the season,and no one from the defender of the title expected that.Perhaps their new player Luka Modric who finally has end one of the biggest football dramas,and has just signed can lift this team higher.
As far as for available players for this match, it should be noted that despite the fracture of cheekbone the last weekend for this match will compete Carles Puyol. Captain of the Catalans got a special mask with which he could enter without fear any duels with opposing players.
Puyol was determined to play, and coach Vilanova is aware of Puyol´s importance. Specifically, with Puyol in the team,Barcelona isn't defeated in Madrid from 22 October 2006. Since then, the Catalans have won five matches and one drewed.
Another player could be very important for the young coach of Barcelona. We are talking about Pedro, whose statistics says that since the season 2009./2010. he played a total of 12 games against Real Madrid, and have scored five goals, which makes him one of the best scorers in El Clasico in recent years. His last goal which he scored to Real Madrid was a few days ago in the first leg of Super Cup.
On the other side Jose Mourinho is in big troubles. Start to the season has brought a draw and a defeat,to him and his team is already after two rounds big five points behind Barcelona in the league competition.
The team does not play well, and the biggest gain – Luka Modric, has arrived unprepared and unlikely to be of great help for this match. However, Luke insists on occasion and apparently he could get some of minutes.
In the first leg , Barcelona have celebrated with 3:2, so tonight for Real Madrid is sufficient and close win, but battles in the past have taught us that El Clasico never offered a simple epilogues. It is expected plenty of nice moves, opportunities and goals.
Real Madrid Probable lineup 4-2-3-1: Casillas;Arbeloa, Pepe, Ramos, Coentrao;Khedira, Alonso;Di Maria, Ozil, Ronaldo;Benzema
Barcelona Probable lineup 4-3-3 : Valdes;Alves, Pique, Mascherano, Alba ;Xavi, Busquets, Iniesta;Pedro, Messi, Sanchez
Watch El Clasico match from our live stream section for free.
Match highlights and full match videos of tonight´s game will be added after the match.