With Bale finally making it to Spain after Real Madrid ended the long months of speculation in a deal with Tottenham Hotspurs worth a reported £85.3 million, transfer day tension finally ended. He has signed a six year contract with Real and is now the most expensive player in the world.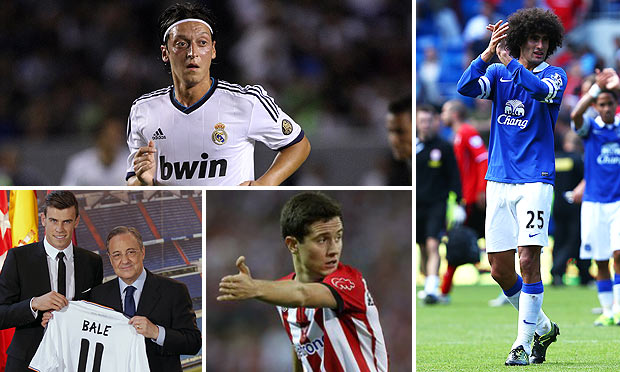 The transfer window finally slammed shut after £630 million was spent in total by Premier League clubs between 1 July and the end of the transfer window, 2 September. This is a huge increase on the previous record amount of £500 million. Arsenal broke their previous record as well by spending over £42 million on a five year deal to sign Mesut Ozil from Real. It smashes their previous transfer record of £15 million paid for Andrey Arshavin in 2009.
What other late moves were made on Transfer Day itself?
Spurs have bought seven new players, spending nearly £105 million, but of course, Bale's fee will help to offset a massive chunk of that.
Arsenal also signed goalie Emiliano Viviano from Palermo, although this is a loan for the season with an option to buy. Villa also paid £7million to Lazio for Libor Kozak. Down the scale of crazy money somewhat, Cardiff signed up Peter Odemwingie for £2.25 million from West Bromwich Albion and Everton took on James McCarthy for £13 million from Wigan, as well as Gareth Barry from Man city and Romelu Lukaka from Chelsea.
Liverpool now have Mamadou Sakho after signing him for £16 million from Sporting Lisbon as well as Tiago Illori from PSG for £7 million. They also have Victor Moses, the winger from Nigeria, on loan. Elsewhere, West Bromwich now has Stephane Sessegnon after signing the forward up for more than £5 million, as well as Victor Anichebe at £6 million from Everton.
At the other end of the scale, it seems Man United failed in their bid to sign Ander Herrera from Athletic Bilbao, Sami Khedira from Real or Everton's Leighton Baines. Arsenal didn't manage to get Real's Angel di Maria and cancelled the transfer of Nicklas Bendtner to Crystal Palace after they didn't manage to get Demba Ba on a season loan from Chelsea.
So, with all of that drama finally out of the way, it's time to concentrate on this season – get your bets in for who you think will triumph next May.