In the Premier league 16th round at the Stadium of Light,Sunderland welcomes Chelsea FC.Both teams are in poor shape, but thanks to brilliant performances at the start of the season Chelsea still holds a very good third place on the table, while Sunderland is just above the relegation zone, and with 13 points less than Blues.
As for their mutual matches,recently he's totally on the side of Chelsea, which have won nine of the last 10 duels, including two last season.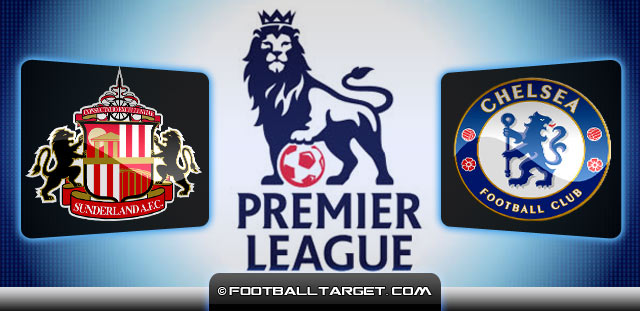 It's definitely a frustrating fact for Sunderland before this Saturday's match, as in the last three games Black Cats have managed to win only one point, and that was against QPR at home.Before that,they have suffered a defeat at WBA and in the last round against Norwich City 2-1.
Specifically, in this match once again we have convinced that the team of the coach O'Neill have big problems with the realization, and thus it is not surprising that the number of goals scored which they scored,is really low and just three Premier league teams have scored less.
However, even with such a weak game they still are above the danger zone, and they have one match less played,at home against Reading, so it is expected that with these possible three points they should further improve its position.
Otherwise, it should be noted that Black Cats in the previous 15 games ,have drew seven times,what only tell us how strong they play,and against Chelsea we should again see their careful and defensive approach.
As for the absence, out are four injured players, defenders Brown, O'Shea,Bramble and midfielder Cattermole.
Sunderland probable lineup : Mignolet – Bardsley, Cuellar, Kilgallon, Rose – Johnson, Larsson, Gardner, Colback – Sessegnon – Fletcher
As for the current state of the team of Chelsea, it is certainly the worst since has began this season of Premier league,considering that the Blues did not celebrate in the last seven rounds, while in the Champions League they were knocked out after the group stage, although a three days ago in the final round, they finally managed to achieve a victory, at home against Denmark's Nordsjaelland with even 6:1 (Full Match Video).
Anyway, in that match the Spaniard Torres scored twice, which is certainly encouraging news for coach Benitez ahead of this match, but then again, English Premier league is incomparably stronger than the Danish, so that the Blues against Sunderland will have to convince all, that they are finally out of the crisis.
Of course it will be an extremely difficult task, especially as the hosts are also in a very bad series of result,and will try here to take all points, while Chelsea players on tour are playing much more defensively than at home.
However, in the last round that approach did not bring anything good to them in a match with city rivals, West Ham because they were defeated with 3-1,although they took a lead, so now it´s expected of Blues to start this match more offensively.
As for the composition, it is likely to remain the same as in a duel with Nordsjælland, while still out of action injured are defender Terry, midfielder Lampard and striker Sturridge.
Chelsea probable lineup : Cech – Ivanovic, Cahill, Luiz, Cole – Romeu, Ramires – Mata, Oscar, Hazard – Torres
Match Prediction : Although many after their great performances in the Champions League are expeting that Chelsea players carries that game in this match, we still believe that the hosts with their extremely defensive approach and this time manage can manage to cut down their oponnets game, , so a match under 3 goals, is somehow and more attractive option than the victory of Chelsea.