Italy have defeated Germany with 2-1 and so reached the finals of the European Championship in Ukraine/Poland, where Spain awaits them after celebrating yesterday against Portugal ( Highlights)!
The Italians did their jobs in the first half. Balotelli scored for the lead in the 20th minute, and with a beautiful goal he raise the advantage to 2-0 in 36th minute. Özil has reduced the score to 2-1 in injury time from a penalty.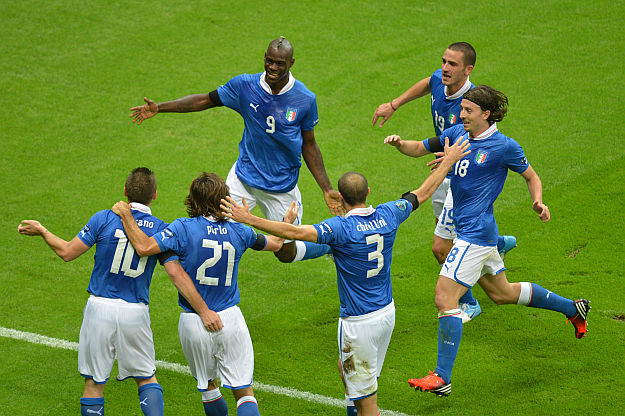 Three key points from this match
1.Joachim Low; German coach made a terrible tactical approach to this game and from the first minute sent Tony Kroos to the pitch.Gomez in front and possible the worst German player today Boateng on the right side-back position.
In the second half,introducing Miroslav Klose(Gomez) and wonderkid Reus (Podolski),as well as Muller(Boateng) gave a new shape to Germany but with some unluck,and great Italians tactics they in the end werent able to level the score.
2.Italy coach,C.Prandelli;Cesare Prandelli have done a great job in preparing for this match.Italy looked tactically perfect,where every player known exactly what to do on the pitch.They completly outplayed German,especially in the first half when they score their two goals.
The second half Germans have opened far more aggressive,but once again C.Prandelli with right call and substitute Diamanti for Cassano in 58 minute gave the Italians a new formation on the pitch,which allow Germans to attack and to Italians to play deadly counter-attack where Diamanti and fast Di Natale had few more chances to increase the lead,but in the end they failed to do so.
3.Mario Balotelli;Super Mario as they know to call him,has done a job perfectly.He has player brilliantly and has scored two goals,where his second was the stunning one.
So,Italy has progressed to the finals where Spaniards awaits them.These team have played earlier in the C group stage,and the result from that match was 1-1.
Highlights : Germany 1-2 Italy (Balotelli 20, 36/Özil 90+2 11m)
GERMANY: Neuer, Hummels, Badstuber, Lahm, Boateng (Muller 71), Khedira, Schweinsteiger, Ozil, Kroos, Podolski (Reus, 46), Gomez (Klose 46)
Italy: Buffon, Chiellini, Balzaretti, Barzagli, Bonucci, Marchisio, De Rossi, Montolivo (Motta 63), Pirlo, Balotelli (Di Natale 70), Cassano (Diamanti 58)