League One battlers Bradford City have already had their share of giant killing exploits in this year's FA Cup. They dispatched Premier League leaders Chelsea with a 4-2 victory in January before punching their ticket to the sixth round by defeating top-flight strugglers Sunderland. They have also sent Millwall packing and that has given them the most talked about cup run this season.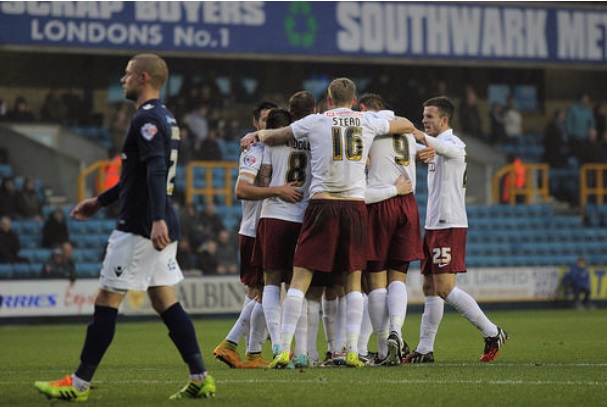 Image by joshjdss
Coming into their clash with Reading at Valley Parade, there were a lot of expectations despite Bradford residing in a lower league than their counterparts. There was a capacity crowd in attendance and, finally, the big TV cameras. The high definition did not do the terrible pitch any favours, and Reading struggled to get going.
But, ahead of the replay, the bookies now interpret it differently to the clash in Yorkshire. Reading are 4/5 with 32Red, with Bradford drifting at 13/4. But more of that grit and durability will have to come in to play for both sides on the 16th, as they will be just a couple of days removed from weekend league matches when they rematch.
"We took a look at the pitch and knew we would have to roll our sleeves up," Reading manager Steve Clarke said. To his team's credit, they did have to put the hard slog in. Trudging through the mud and uneven pitch, neither team were able to convert any of the few chances. As a result, it ended 0-0. There was only one shot on target throughout the whole 90 minutes. There was a chance each that hit the woodwork, but other than that it was a match devoid of goal drama.
There were different battles to be fought, the physical and the aerial, but it was not champagne football. The pair will have to decide matters in a replay at the Madejski Stadium on March 16th and hopefully it will be more than the grinding affair that we saw in Yorkshire.
Whilst Bradford could not put together the goals to show for it, they were more comfortable and dominant throughout but it was on their terms. Will that signal the end of Bradford's best opportunity to progress?
Bradford will have to muster up some huge performances. Every man on the park, particularly the likes of Stephen Darby and Gary Liddle, looked like they were planning on going home with some blood on their boots as a war trophy from the first leg. In the game, that physical hustle and bustle and warrior spirit was what was needed.
Alex Pearce's late blood flow and return to the pitch was characterised as "a proper centre-half" moment in the heat of the battle, simultaneously signifying the grit Reading had to show to get through a tough final 45 minutes. Reading will be hoping for more of a game of football next time round, which will suit them.
Reading manager Clarke has had his bit to say about the scheduled replay, claiming that the FA are "devaluing their competition" by putting the fixture so close to league games. "We'll be ready but you would think they would show some common sense," he said.
It is hard to say who that will have the biggest impact on. But you would err on the side of Bradford being the more drained of the two. The Yorkshire side go from away at Notts County on the Saturday to travelling further south to Reading 48 hours later. Home advantage for The Royals is a bonus, and they are just across town at Watford in the preceding match.
The Bantams may not be able to rely on the physical attributes as much under the circumstances, so they might have to try and leverage the mental strategies that are being credited by some players for their cup success so far. Billy Clarke and James Hanson have used a mind coach to engrain confidence.
Come game time, there will be technical prowess, physicality and mentality all contributing to the tie. What will Bradford have enough of and what will they lack? Can they make up for shortcomings of one with the other? It is the magic of the FA Cup and part of what makes it such an exciting battle for the right to progress.