Lionel Messi struck twice before David Villa and Jordi Alba capped a memorable victory at Camp Nou, as Barca became the first side to overturn a 2-0 first-leg deficit in Champions League history.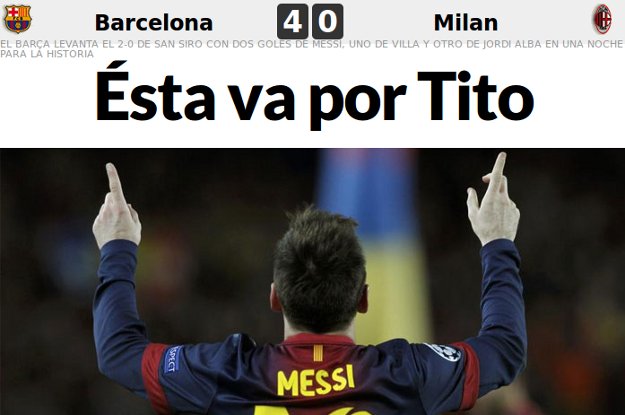 Although they were only few who believed after two stumbling against Real Madrid, and especially due to convincing defeat at the San Siro, Barcelona players lead by genius Lionel Messi have surpassed 2-0 result from the first leg match,and with a total of 4-2 in the second leg at the Nou Camp have secured quarterfinals.It was Messi´s day, who already in the 5th minute has scored a opener,and things looked much easier for Barcelona.In the 39th minute,once again the Argentinian from edge of box trough Mexes legs shots and raise the lead to 2-0 which was also and the result of the first half.
David Villa from the left post side has scored for 3-0 while,Jordi Alba after a brilliant run has punished Rosonerri´s all or nothing play and scored a fourth goal for Barcelona.
Still the game could go to other side,if Niang used AC Milan´s great opportunity in the first half,but Niang has hit only a goal post.
Match Highlights : BARCELONA – MILAN 4-0 (Messi 5, 39, Villa 55, Alba 90+2)
WATCH FULL MATCH REPLAY