Wayne Rooney finally has scored his first World Cup goal , but it wasnt enough for England to beat Uruguay. Luis Suarez scored his double which was enough to beat the Three lions 2-1.
In a great game with a lot of chances England failed to win any points, again ! Liverpool striker proves to be a deadly one for Hodgson's men. First he scored an opener in the 39th minute with a lovely header which was enough to give his team a half time lead. England tried to bounce back, and the same the Three lions manage to do thanks to Manchester United striker, Wayne Rooney who canceled Suarez goal. Still it wasnt enough, as Suarez once again enters his name into the goal scoring list after smashing the ball inside the box to the right goal corner past Joe Hart.
England having 0 points from the first two games, still have a chance to reach the next stage, but now they depend on Italy, who would need to beat Costa Rica and Uruguay in order to keep the Three lions alive at the World Cup in Brazil, while England needs to beat Costa Rica.
[leagueengine_show_tournament_match tid=749 mid=21]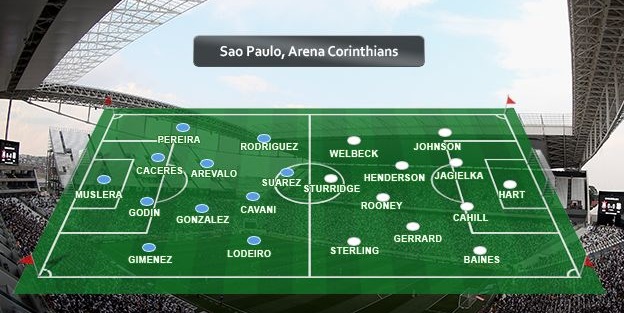 Match Highlights / Full Match Replay – available
1-0 39′ Luis Suarez
1-1 75′ Wayne Rooney

1-2 84′ Luis Suarez