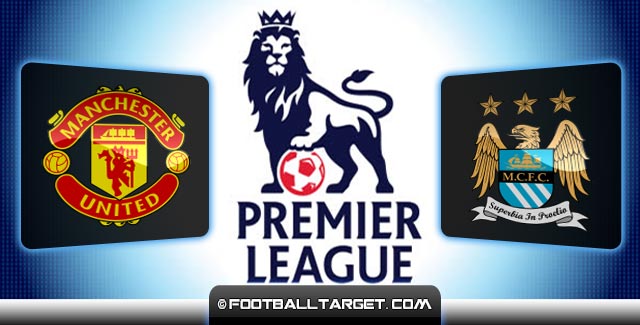 PREMIER LEAGUE
April 12, 2015 • 16:00 • Old Trafford, Manchester
Referee: M. Clattenburg
Manchester United – Manchester City Live Streams
 Manchester United – Manchester City Match Highlights
Seven rounds before the end of season, big Manchester derby game won't decide anything regarding the new Premier league champion, however, Louis van Gaal's men will aim to avoid fifth consecutive defeat against their city rivals, Manuel Pellegrini's Manchester City.
The home side in a much better shape await Sunday's clash with Man City, considering the lost only one game from the last 6, and that one defeat was at home against Arsenal 1-2 in the FA Cup competition. On the other side, Man City from the last 7 games in all competition celebrated only twice, losing the other 5 games, including elimination from the Champions league by Barcelona.
At Old Trafford, the epic 169th derby Manchester United will play with Man City. Red Devils sit on the third having only one point more than the fourth Man City. Fight for the league title seems unlikely for both teams, which reduces the derby tension and importance, although it does not mean anything because it is too big rivalry between these two sides. After all, it is important to maintain a place that leads to the Champions League, while Manuel Pellegrini's place on the bench hangs and most likely at the end of the season he will be sacked.
To lose five times in a row, has never in history happened to Man Utd, and the Red Devils currently have three defeats in a row at Old Trafford.
With excellent standard Rooney, two Spanish midfielders Mata and Herrera are the key players at Man United deserved for the rise of United, and the defense is far safer than in the first half of the season at the helm with excellent goalkeeper De Gea.
– I am always confident and I do believe in my team. I dream of winning the derby, and for many days with players and associates i talk about how to beat Man City. It would be a big step on the table because the third place is now a reality, and a month ago no one thought about it, except me of course.
– In more than 20 games (21) we only lost two. It is a long run and can not be a random one. I would not point out only the last five games because they are only the result of the work and progress of the team. It was a process in which we believed and participated together, said Man Utd boss, Louis van Gaal.
– I had a greater fear of Aston Villa than now of Manchester City as Aston Villa is more defensive minded.
– I do not expect Manchester City to play in the same style as Aston Villa, which means that we have to have to focus and concentrate and to our defense.
Manchester United manager Louis van Gaal confirms forward Robin van Persie will miss Sunday's Premier League derby against Manchester City because of an ankle injury.
Manuel Pellegrini's job at Man City is on a thin line and a press conference he had to start answering questions about his status in Manchester City.
– It is hard to say whether I stay on the bench and Manchester City next season. We'll see.
– Both teams have very good players and both managers like to play offensively so I think that we would see a good match, with some intense pace. Both teams will want to win.
– I think United have a lot of respect for us because we were dominant in previous years not only in the derby, but in the league as well.
– We lost the last away games, especially the last two with two goals in set-pieces, against Burnley and Palace, he said.
– We hope we continue doing the good things we are doing because we are not a disaster, we're not a mess. We are doing a lot of things well.
Team probable lineups
Manchester United: De Gea – Valencia, Jones, Rojo, Blind – Herrera, Carrick – Mata, Fellaini, Young – Rooney
Out: Evans, Shaw, Pereira, Van Persie, Smalling (?)
Manchester City: Hart – Zabaleta, Demichelis, Mangala, Clichy – Fernandinho, Toure – Navas, Silva, Milner – Agüero
Out: Bony, Jovetić, Boyata, Kompany (?)