Jose Pekerman, the Columbian coach has revealed that he still counts Uruguay as favourites despite Uruguayan Striker, Luis Suarez being banned from the game.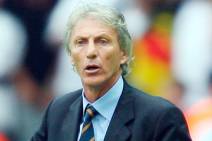 Columbia topped Group C in their World Cup 2014 campaign with 3 victories – one of the four sides to do so. Columbia's next game in their campaign is Uruguay, who they will face on Saturday.
Despite Luis Suarez being suspended from the game at Columbia after he received a 9-game-suspension from Fifa, the Columbian coach thinks that Uruguay are still a "top notch" team.
Pekerman made a pre-match speech, in which he says "This will be a demanding test for Colombia. We will have to show that we are up for it. It's important not to lose the optimism and faith we have."
It is worth noting that Uruguay lost their first game against Costa Rica, in which they were also without Luis Suarez. This means that with the form that Columbia are in, with three straight victories and with the situation that Uruguay are in, it could be an interesting meeting between the two sides and one which Columbia have the pre-match upper hand.