[tabs title="" disabled="false" collapsible="true" active="0″ event="click"]
[tab title ="Match Report"]
Real Madrid have won Decima in thrilling final comeback in Lisbon after trailing 0-1 until the 93rd minute. Ramos' header turned a game and ensured later on with goals of Bale, Marcelo and Cristiano Ronaldo that Real Madrid crown their 10th Champions League crown , putting the end to a 12 year obsession!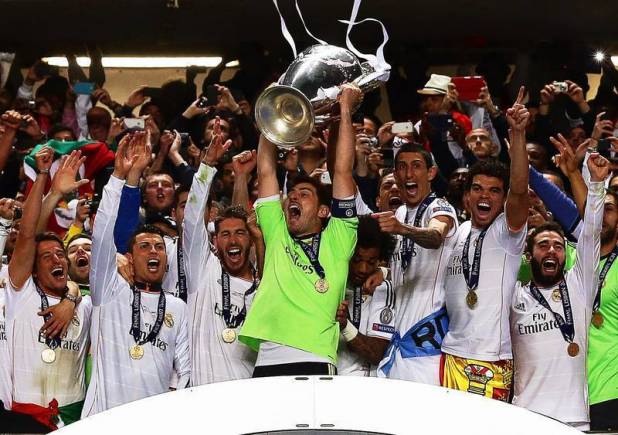 Diego Simeone's side without Diego Costa who left the game in the 9th minute and Arda Turan who was at the stand, almost pulled the biggest surprise of Champions league. But five minutes of added time was more than enough for Real Madrid to find a leveler. The Los Colchoneros opened a goal scoring list with Diego Godin's header who capitalised on a dreadful error from Iker Casillas. A 1-0 lead stand on the screen until the last-minute of a regular time.
Real Madrid stars with Ramos's header just a minute before the end manage to level the score and teams went to an extra time.
First extra time ended with the same 1-1, and then on the pitch was only one team, Real Madrid. Simeone's men obviously tired, allowed dominance of Los Blancos from which Angel di Maria and Gareth Bale take a full advantage. Di Maria after a lovely run on the left flank has made a cross to the right goal post where Bale with a header sends the ball for the 2-1 lead.
Atletico tried to attack as seeking for a goal, but the punishment came soon as Simeone's men left a lot of empty space at the beck which Marcelo used and with a great shot raised the score to 3-1.
What finale would it be if Cristiano didn't score. In a last-minute of the second extra time, Ronaldo first earned a penalty kick and converted the same for the final 4-1 lead and the Champions league trophy !
Real Madrid, Champions of Europe were in 1956., 1957., 1958., 1959., 1960., 1966., 1998., 2000., 2002. and now in 2014.
[/tab]
[tab title ="Match Highlights"]
[leagueengine_show_season_match lid=23 sid=24 mid=195]
Extended Highlights

Highlights


[/tab]
[tab title ="Match Replay"]
1st
2nd
Extra
Trophy Celebration
[/tab]
[/tabs]