St. Mary's Stadium — Southampton, Hampshire
Premier league Match Southampton vs Manchester United live streams,Preview,lineups,prediction
Referee:‬ M. Dean‎
Watch match Southampton 2-3 Manchester highlights here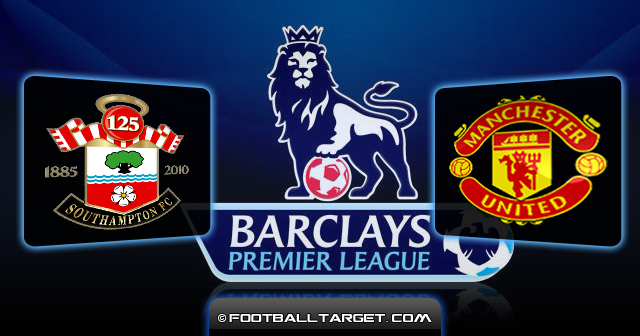 In the last match of the third round of the English Premier league meets two completely unequal opponents, because Southampton after seven years of absence only this season has returned again among the English elite, while players from Manchester in the same period were regularly among the two best teams on the island.
Otherwise, these two teams in the last three years have met twice in the FA Cup, and even though the game was in Southampton, the "Red Devils" celebrated with 2:1 and 3:0.
Of course that hosts this time also are aware that awaits them extremely difficult task, especially as in the first two rounds they were defeated in duels with Manchester City and Wigan, so the mood in the locker room is not very satisfactory.
However, four days ago with the reserve team they manage to celebrate in the League Cup away game against Stevenage, which return a little smile on the face of coach Adkins, who is in fact the most deserving that this team in just two seasons gone from third Division to the Premier league, and it finished last year in the Championship on an excellent second place .
In fact, he reborned the game of this team, especially in attacking part, so they scored the highest number of goals in the league, primarily due to the great attackers, Lambert and Sharp, and in addition had the third best defense in the league.
But already the first matches in the elite company revealed that it is not nearly enough to survive, so they brought several new players during this transfer window, like attackers Ramirez from Bologna and Mayuko from Young Boys as well as defender Yoshida from Venlo.
However, it is unlikely that any one of them gets a chance on Sunday against Man United because they did not have enough time to fit into the team, but certainly here would be the players who earlier came to Southampton, and that is striker Rodriguez, midfielder Davis and defender Clyne, while Sharp has joined Nottingham Forest.
Southampton probable lineup 4-3-3 : Davis;Clyne, Hooiveld, Fonte, Fox;Davis, Schneiderlin, Lallana;
Rodriguez, Lambert, Lee
Unlike the new Premier league club,Southampton, Manchester United players after the away defeat in the first round against Everton last weekend managed to get their first win of the season, at home against Fulham.
But in that game Man Utd players manage to take all three points really hard, which telling us the best and a score of 3:2 (, so is already now clear that they have a lot to work on their defence, which is just like the last year, and at the beginning of this season, faced with a large number of absences.
Specifically, currently out of team due to injuries are Ferdinand, Smalling and Jones, while Evans will probably be ready for this match.That means, that Carrick should go back to his natural position in midfield, along with a young Cleverley, while on the bench in this case, will go Anderson .
Meanwhile,Rooney got injured, so attacking duo of Man Utd should be "rookies" van Persie and Kagawa, while from wings fleet-footed Valencia and Young will help them.
For the end we should point out that out of the team due injuries are midfielders Fletcher and Scholes, while striker Berbatov and experienced goalkeeper Kuszczak have left Old Trafford.
Man Utd probable lineup 4-2-3-1 : De Gea;Rafael, Carrick (Evans?), Vidic, Evra;Cleverley, (Carrick) Anderson;Valencia, Kagawa, Young;Van Persie
Southampton vs Manchester United Prediction : Regardless of Manchester United´s unconvincing start in the season against the rookies in the league really is hard to expect anything other than their victory, especially if they improve their game in defence.Man Utd to win or over 2,5 goals.
Watch Southampton vs Manchester United online from live streams