Fabio Borini has signed a 4-year deal with Sunderland after his impressive season loan at Sunderland in 2013-14 season.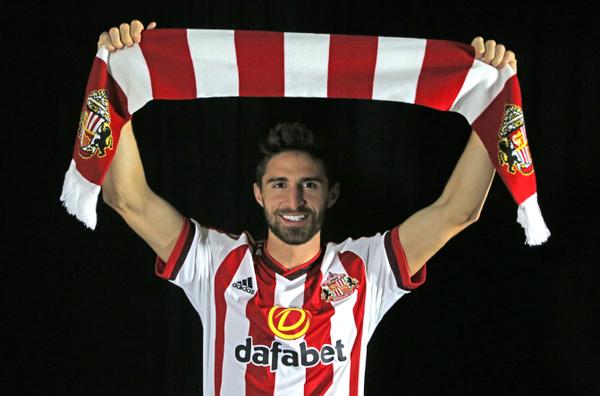 Image: Twitter/Sunderland
Finally Sunderland have signed Fabio Borini permanently. Other European clubs like Inter Milan were interested in signing Borini. The Italian striker have scored seven goals in 32 appearances.
The striker returned to Liverpool to fight for his place in Brendan Rodgers' team but failed to impress the boss.
BORINI: Striker delighted to be back on Wearside #ThisIsFab Watch full interview FREE at http://t.co/cA6VvUR5kP https://t.co/gAZqkTLjHq

— Sunderland AFC (@SunderlandAFC) August 31, 2015

Fabio Borini on his move to Sunderland said, "I am delighted to be back at Sunderland. It is a club I know really well from my time here previously.
"It will be emotional for me to play at the Stadium of Light again and I can't wait to get back on the pitch as a Sunderland player."
Sunderland boss said, "Fabio is a great addition to the squad who will make our front line stronger. He can play in a number of attacking positions which is a huge benefit to the team."
BEHIND THE SCENES: More content from @borinifabio29's #SAFC unveiling today – https://t.co/RLV4K4QniR pic.twitter.com/jLlYPIzZLE

— Sunderland AFC (@SunderlandAFC) August 31, 2015