The Dutch admits that Lionel Messi will lead Argentina to win World Cup as they seems to be the most completed team of this competition.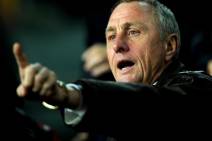 Cryff believes that with Messi leading Argentina , they are the team to beat at this World Cup.
The Former Netherlands international believes that teams like Italy , Germany or Spain are also potential winners. He also admits that the home team , Brasil got alot of pressure wich could be a negative thing for them.
"The pressure on the squad is huge," Cruyff told to De Telegraaf "They have to watch out for Argentina. I think Spain will also be a good contender and we know that Germany and Italy can grow into the tournament."
Cryff also talked about the players that are missing World Cup because of injuries."A World Cup is longer than a month and costs a lot of energy. I'm not happy to see that players have already been dropped from squads because of injury,"