Real Madrid visit the Champions league holders, Bayern Munich on Tuesday hoping of reaching final for the first time in 12 years.
The most successful team in the history of the Champions league, with nine titles, for the last three years have failed to reach the final. In each of these three times, the Spanish side, have fallen at the semi-final stage. Twice from the German clubs. Last season , Klopp's men on have beated Real Madrid 4-3 on aggregate, while the season before exactly Bayern Munich was Real Madrid's "black cat" .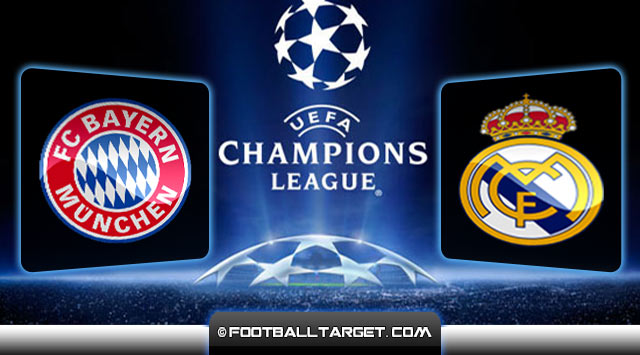 Watch Bayern Munich vs Real Madrid Highlights
 First leg match at the Santiago Bernabeu , Real Madrid won 1-0, with Karim Benzema's goal. While Pep's men have had a ball possession, their tiki-taka style, wasnt so dangerous for Casillas. On the other side, Real Madrid after taking a lead trough Benzema, was pushed back by the Germans, and orientated to counter-attacks which proved to be a much more deadly weapon than then Bayern's ball possesion. The same is to be expected at Allianz Arena, but this time, Bayern must go all-in, which would only left more desired space for Carlo Ancelotti's players, and their fast wingers, Cristiano Ronaldo and Gareth Bale.
Superior Bayern have won the league title, after clinching the title already after 27 rounds. Since, then, Pep's men seems to lose the focus and they enrolled three defeats. To Augsburg, Borussia Dortmund and Real Madrid. Still , the last league game against Weder Bremen at home , Bayern managed to win 5-2 after going behind 2-0 ( Match Highlights).
The Los Blancos on the other side had a much less problems smashing Osasuna 4-0. Cristiano Ronaldo once again was a key man with two amazing goals ( Watch Match Highlights) and the same Ancelotti expects in a game with Bayern.
Speaking of the history, between these two teams, Bayern Munich and Real Madrid have played seven times in Champions league in Munich , and only once Real Madrid manage to win. Further even five times it was a score of 2-1. Result which would led the Spanish side to the final stage. As for the Spanish visits to Munich, in all competition, Bayern have never lost a game to Real Madrid.
Full history between Bayern Munich and Real Madrid, in Munich
The Italian manager on the bench of Real Madrid, Carlo Ancelotti, revealed that Real's attacking trio of Benzema, Cristiano will all feature in Munich and claims that his men will go into the game with confidence, especially after winning already one trophy ( Copa del Rey against Barcelona FC).
"I have every confidence in the players and I think everyone should do," Ancelotti said in quotes reported by the Spanish press.
"The plan in Munich is to score, rather than defend."
Similar thoughts expressed and Gareth Bale : ""It's been a good season so far but there is still a lot of work to go. We haven't spoken too much about the game, but we know it's a massive one with a lot at stake. We are ready to give it 100%; our best shot.
"I don't feel like we've qualified for the final yet. We have a very hard game to come against Bayern. We are looking forward to it. We like to attack but we need to know how to defend too.
"We are confident. When you arrive at a club like this you feel the expectation, but there is a great atmosphere within the group. We wanted to win the Copa del Rey and we did so. "
Still, Ancelotti is fully aware that a game with Bayern is going to be very difficult. The Italian claims that Real Madrid wont park a bus behind, and that his team will try to outscore Bayern Munich.
"It is possible to advance even if we don't score, but our intention is to do so."
"We have scored a lot in the Champions League and in La Liga and my intention is that we do so again in this one."
Speaking of the team tactics, Ancelotti said : "Playing 4-4-2 or 4-3-3 won't change the overall outcome much. We will see two teams with different philosophies because of the players available to them. That's what makes football so beautiful. Personally, I prefer football that is quick during the build-up."
Team Probable lineups
Regarding the injury problems for the home side, Pep Guardiola can't count on Holger Badstuber (knee), Xherdan Shaqiri (thigh) and Tom Starke (elbow) , while Thiago Alcantara has returned to training. As for the Spanish side, Alvaro Arbeloa, Jese Rodriguez and Sami Khedira (all knee) are sidelined.
Bayern Munich : Neuer – Rafinha, Boateng, Dante, Alaba – Lahm, Schweinsteiger – Robben, T.Muller, Ribery – Mandžukić
Real Madrid : Casillas – Carvajal, Pepe, S.Ramos, Marcelo – Xabi Alonso, Modrić – Bale, do Maria, C.Ronaldo – Benzema(Isco)
Match Prediction : Real Madrid can score to anyone, and we expect from them to score in Munich also. Bayern Munich have to look for some goals. They cant play badly like in Madrid. Over 2,5 goals
Team News & Interviews
Pep Guardiola praises Real Madrid style
Bayern Munich coach Pep Guardiola on Monday (28th April) highlighted Real Madrid's capacity to play both offensively and defensively, before facing the Spanish side on Tuesday (29th April) in the second leg of their UEFA Champions League semi-final.
Guardiola wary of Bale and Ronaldo
Bayern Munich head coach Pep Guardiola has admitted that he could change his team's tactics if both Gareth Bale and Cristiano Ronaldo play in the second-leg of Bayern's Champions League semi-final against Real Madrid in Germany on Tuesday.
Robben only focused on Real Madrid
Bayern Munich midfielder Arjen Robben is refusing to think of reaching the Champions League final before Bayern host Real Madrid in the second-leg of their semi-final at the Allianz Arena on Tuesday. Real lead Bayern 1-0 on aggregate.
Robben hungry to repeat European glory
Bayern Munich coach Pep Guardiola talked on Monday (28th April) about former player Dani Alves' decision to eat a banana thrown onto the pitch during Barcelona's 3-2 win at Villarreal on Sunday (27th April). Dutch winger Arjen Robben responded, meanwhile, to questions about Real Madrid's quest for a 10th European Cup title before Tuesday's (29th April) UEFA Champions League semi-final second leg.
Ancelotti cautious ahead of second leg
Ahead 1-0 from the first leg, Real Madrid trained at the Allianz Arena on Monday (28th April) before completing their UEFA Champions League semi-final against Bayern Munich the following night
Ancelotti pleased with Bale's season