So you're an ardent supporter and hardcore fan of the Football Manager series. You grab the latest edition, open up a new file, take a club in the Premier League and there you are, in a battle to finish at the top or the highest you can. The best way to finish at the top is having the best players. Often, the best players do not come super costly and smart buys can be made to propel your team up the table, specially if you are a mid table club, a club fighting relegation, or just boosting your club's finances by developing stars and selling them. If you're doing that, here are the top 5 players, you just can't miss.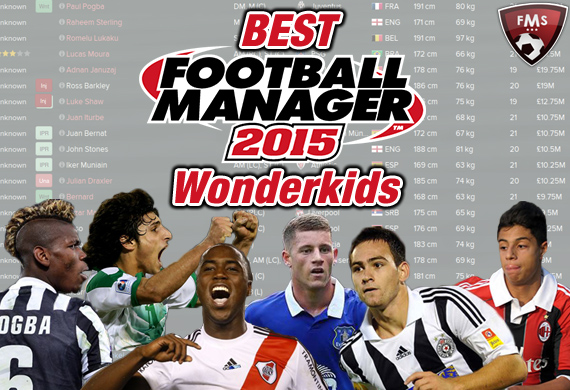 1. Guido Vadala
Age: 17
Position: AMC/ST
Role: Advanced playmaker / trequartista / shadow striker / enganche
Club: Boca Juniors
Nationality: Argentine
Value: £250K
Price Tag: £4.9 million
Vadala in the game is pretty much the next Lionel Messi. Better snap him up quick, as lot's of clubs chase him. Take the chance and sign him. At £4.9 million he is worth the risk, and even if he doesn't develop enough after three or four seasons he will still have a great re-sale value. He is a terrific AMC with one of the best technical ability in the game. Vadala develops fantastic finishing from short and long range. He develops his composure, vision, speed and off the ball movement rocket in his late teens. This kid definitely is a must buy for any club that wants a terrific player.
2. Memphis Depay
Age: 20
Position: AML/ST
Role: Inside forward / raumdeuter / advanced playmaker
Club: PSV
Nationality: Dutch
Value: £6.75 million
Price Tag: £12.5 million
A player that made a sizeable impact at this summer's World Cup which nearly lead to a transfer to Tottenham Hotspur. Depay is primarily a winger but could play anywhere across the three behind a striker. The £12.5 million asking price is a steal, considering have an instant impact. Due to Depay's natural goal scoring ability role of inside forward where he cuts in from the left is best, he could be terrorizing right backs for years to come. If you want a goal machine, go get him. He can score and supply, making him a much required player. He has amazing technique and should be the one taking free kicks. Giving him freedom on the pitch will be one of your wisest managerial decisions, after signing him of course.
3. Luka Jovic
Age: 16
Position: ST/AML
Role: Poacher / advanced forward / false nine / complete forward / deep lying forward
Club: Red Star
Nationality: Serbian
Value: £110K
Price Tag: £948K release fee
Jovic shows potential to be a very exciting forward capable of scoring a variety of goals, and all for just £948K. Even the hassle of negotiating with Red Star can be avoided, as he can be approached to sign for a measly compensation. Better act fast, as clubs circle around this lad. However, he'll join your club by January 2016, due to age restrictions. So this is a player you'll be without a season and a half. However, Luka has exceptionally well rounded ability. He can shoot from range, head, take on his man and wriggle free of the tightest markers. There's no doubt, this kid is the must have striker. Given the price and potential this boy has, managers should act fast.
4. Human Tariq
Age: 18
Position: AMC/AML
Role: Attacking midfielder / advanced playmaker / shadow striker / enganche / trequartista
Club: Al-Quwa Al-Jawiya
Nationality: Iraqi
Value: £250K
Price Tag: £250K
Humam is the best bargain in Football Manager series. He starts the game with brilliant vision and good all round mental attributes. As he matures, these stats just keeping going up. This kid can pass, dribble, finish and even cause problems from distance. However, it's very difficult developing him and you need to be at your best, to get the best out of him. For £250,000 he is worth the risk whatever your budget. You will have to send Humam away for a few years because of work permit issues to foreing affiliates to gain a work permit but at least you'll have a potential superstar. Tariq is best utilized as an AMC but the roles he can play are endless, but advanced playmaker may just suit him best so he can get into positions to score and assist.
5. Eder Alvarez Balanta
Age: 21
Position: DC/DL
Role: Limited defender / central defender / ball-playing defender
Club: River
Nationality: Colombian
Value: £2.3 million
Price Tag: £5 million
If you've played a lot of Football Manager, then you can skip reading about this player. You already know him. Eder Alvarez Balanta has been a highly sought after wonderkid in the last couple of Football Manager titles. Balanta, simply put, is an awesome young central defender and comes at a very cheap price at the start of the game. He's almost a must buy player and would join any club, mid table to title winners.  If you have a bit of money in your transfer kitty, buying him is a must. Eder tends to take a bit of time to develop, but your patience will be rewarded, as he evolves into central defender with flawless marking, solid heading and tackling, very good speed, strength and top notch mental attributes. And, of course dont forget Pogba.