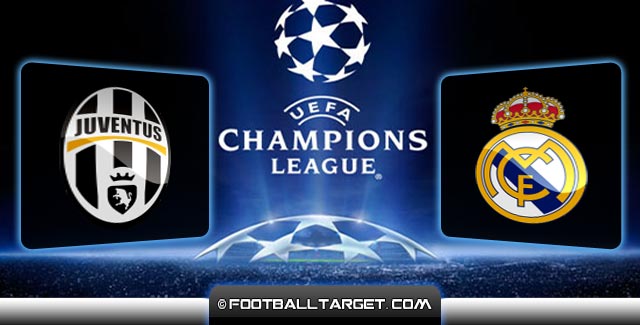 UEFA CHAMPIONS LEAGUE
May 5, 2015 • 19:45 • Juventus Stadium, Torino
Referee: M. Atkinson
Juventus – Real Madrid Live Streams
Watch Juventus 2-1 Real Madrid Match Highlights
Watch Juventus vs Real Madrid Full match Replay
The First semi-final clash of the Champions league competition is on schedule this Tuesday in Turin where Juventus will seek for their first final since 2003., while the Los Blancos will aim to reach the final and to defend the Champions league title from the last season.
Juventus secured their new, fourth in a row, Serie A title with a 1-0 win over Sampdoria and can concentrate fully on Champions league two matches with Real Madrid. The Bianconeri have two Serie A wins connected, while Real Madrid is on a run of seven straight La Liga wins, but still they lagging behind the league toppers, Barcelona, three points with only three round before the end.
It's interesting that both these teams with an identical results have secured their place in the semi-finals. To Juventus a 1-0 win in Turin was enough to knock out AS Monaco as in France these two teams have played a goalless draw, while Real Madrid the first game against Atletico Madrid finished with the same 0-0, while in the second leg match, Chicharito scored for a minimum 1-0, which was enough for Carlo Ancelotti's side.
The last time that Juventus and Real Madrid have met was in 2013, when in Italy the match finished 2-2, while in Madrid, the Los Blancos celebrated 2-1.
Juventus clinched the new Serie A title much easier than expected, given the enormous advantage in points, four rounds before the end. No one could compete with them and Maximiliano Allegri's side have lost only three games. The last one was before three rounds against Torino when Juventus practically already secured the title. But to make it an official thing, the Bianconeri have beaten two teams which still look for the Europa competition places, Fiorentina at home 3-2 and in the last round Sampdoria 1-0, away.
Coach Allegri has sent to the pitch two mixed teams for the last two Serie A matches, and the only this that Allegri did not change was the attacking duo, Tevez and Llorente, who have brought a win over Fiorentina.
Perhaps the biggest dilemma for Allegri is whether to start in 3-5-2 or 4-3-1-2 formations. Ten of the eleven starters for Juventus are well known and if Allegri decides to go with the first option, so 3-5-2 formation than Barzagli will start from the first minute, while if he decides to go with 4-3-1-2, the midfielder Pereyra will play. Pogba and Romulo are definitely out for the Italian side, while Asamoah and Caceres are doubtful.
– When you play the semi-finals of the Champions League your thoughts are never completely clear. We have to play with the awareness of our strength, the goal is to get to the finals, knowing that we are among the four best European teams.
– What Juventus will have to do? Lots of things. Real Madrid are an exceptional team with a lot of technical quality. We will need a great performance, specifically two such performances, said Allegri.
For Real Madrid the real excitement only begins. They have to eliminate Juventus and to catch up Barcelona in La liga. A big thing Ancelotti's side achieved with a tough 3-2 away win over Sevilla where Cristiano Ronaldo scored a hat-trick. The Los Blancos' remaining schedule is not an ideal one, after their clash with Juventus in Torino, on Saturday they welcome Valencia.
As for their form, it's on the top level, seven games, seven wins, noting that they have not lost a game since the El Clasico match with Barcelona. Benzema and Luka Modric are still out, so Bale will take Benzema's place while the saviour Chicharito most likely will be on the bench.
Carlo Ancelotti knows Juventus very well and he expects an exciting match:
– It will be very tied two games, but totally different from those in the quarter-finals with Atletico.
– Then Atletico left the initiative to us and we had a great ball possession but surely it will not be the same case now because Juve likes to have the ball, just like we do.
– We are an attacking team and we will not give up our philosophy, but we will also have to defend very well.
– Juventus on Saturday won the championship and probably is now full of confidence. They have a lot of experience in their ranks, quality also.
–  They are one of the few teams that without any problems can play with three or four defenders.
Team probable lineups
Juventus: Buffon, Chiellini, Bonucci, Barzagli, Evra, Marchisio, Pirlo, Vidal, Lichtsteiner, Morata, Tevez
Out: Romulo, Pogba, Caceres, Asamoah
Real Madrid: Casillas; Carvajal, Pepe, Varane, Marcelo; Ja. Rodriguez, Kroos, S. Ramos, Isco; Bale, Ronaldo.
Out: Modrić, Benzema, Khedira