More than 150,000 readers of MARCA.com selected what they believe to be the best eleven of the 2012/13 season of Spanish league. It consists of four players from Barcelona, three from Real Madrid, two from Atlético Madrid and two from Real Sociedad.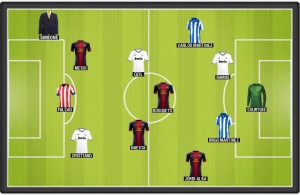 Sreenshot:Marca
The best goalkeeper of the season, was the BelgianThibaut Courtois. The Atlético Madrid keeper, let in only 28 goals in 36 games, and receive almost 70% of the votes.
On the sides positions are Carlos Martinez (Real Sociedad) right and Jordi Alba (Barcelona) left, while central defender positions held Sergio Ramos (Real Madrid) and Iñigo Martinez (Real Sociedad).
The best defensive midfielder is Sergio Busquets (Barcelona), and in front of is Mesut Özil (Real Madrid) and Andres Iniesta (Barcelona).
In Atomic attack they are three top scorer – Lionel Messi (Barcelona), Radamel Falcao (Atletico) and Cristiano Ronaldo (Real Madrid). Coach of the year, is the Argentine strategist Atletico Diego Simeone.
Readers chose and the biggest disappointment teamof the season. There are, among others, Michael Essien and Kaka from Real Madrid, Alex Song and Alexis Sanchez from Barcelona, ​​and the coach is – Jose Mourinho.