Argentine striker of Barcelona,Lionel Messi for the fourth consecutive year, has won the Golden Ball, prize that jointly is awarded by the International Football Federation (FIFA) and the magazine France Football.
Messi (25) also became the first football player in history who has won four times the Ballon d'Or.Messi behind has left Johan Cruyff, Michel Platini and Marco van Basten who have three titles.Messi has won 41.6 percent of votes, and the prize was awarded to him on Monday at a ceremony in Zurich.
With the Argentinian, to recall, in the finals were and Real Madrid star Cristiano Ronaldo who won the second place (23.68%), and another member of Barcelona Andres Iniesta (10.91%).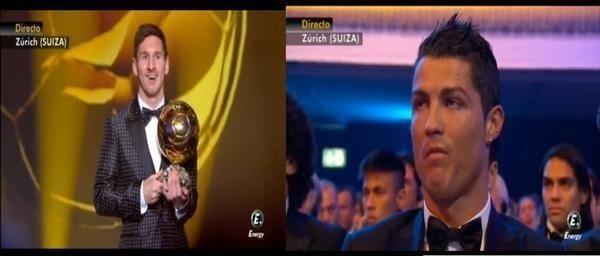 Messi has scored in the last year an incredible 91 goal for the club and the national team, and with his games Messi left a little doubt that he is really a best footballer today. Although with Barcelona Messi has not won any major title in 2012. (only the Copa del Rey), the coaches and captains of all the world's national teams, journalists and France Football, have him the most votes.
– To be honest, this is really amazing. The fourth time I've won this award, I have no words. I want to thank to all my colleagues from Barcelona and to pay tribute to friends from the national team of Argentina. I wish to thank to my family and friends, especially my wife and son – was Messi's first reaction after receiving the prestigious award.
Coach of the Year: Vicente Del Bosque!
Except Del Bosque, in the competition were the coach of Real Madrid Jose Mourinho and Josep Guardiola, who was nominated as coach of Barcelona, on whose bench he has been up to this summer.
Del Bosque has led Spain to a second consecutive European title this year, and to the world title two years ago.
The Team of the year : Barcellona + Real Madrid + Falcao!
Spain's dominance is seen in the choice of the best team of 2012: Five players of Barcelona ,five from Real Madrid and one from Atletico Madrid!
Goalkeeper: Iker Casillas
Defenders: Dani Alves, Gerard Pique, Sergio Ramos, Marcelo
Midfielders: Xabi Alonso, Xavi Hernandez, Andres Iniesta
Forwards: Lionel Messi, Falcao Radomel, Cristiano Ronaldo
Best goal of the year: Miroslav Stoch!
Winger of Fenerbahce and national team of Slovakia, has won the "FIFA award Puskas" for 2012. Stoch scored a great goal from volley against Genclerbirligi.
Conquerors of FIFA's award for 2012.:
Golden Ball: LIONEL MESSI
Female soccer players the year: Abby Wambach
Best Goal: Miroslav Stoch
Best Coach: Vicente del Bosque
Best Female coach: Pia Sundhage
Best team: Iker Casillas, Dani Alves, Gerard Pique, Sergio Ramos, Marcelo – Xabi Alonso, Xavi Hernandez, Andres Iniesta – Lionel Messi, Falcao Radomel, Cristiano Ronaldo
Presidential Award: Franz Beckenbauer
Fair Play Award: UZBEKISTAN FOOTBALL FEDERATION