After a disastrous campaign for Spain is coming to an end. After losing to Chile and got destroyed by Netherlands at their first match , Del Bosque side are going to try to conclude this disappointing campaign with a win.Meanwhile Australia comes from two impressive performances against Chile and Netherland.This is a chance for both teams to put in the field some fresh faces.
Watch Australia vs Spain live free online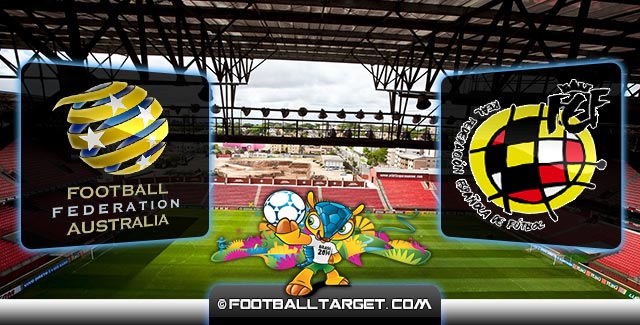 Australia
Australia are outside of this World Cup as Spain , since they lost 3-2 to Netherlands and 3-1 to Chile at the opening game. Anyway beside they lost, Australia did put a very impressive performance and created much problems to both Netherlands and Chile.
The Aussies will suffer the absence of their top player Tim Cahill since he is banned for the yellow cards he got in the 2 first games. The Striker Adam Taggart may replace him, while Ben Halloran and Oliver Bozanic are favoured to start from 1st minute.Anyway beside absences, Australia will try to leave this competition with their heads held high.
Australia Possible Line up,
4-2-3-1: Ryan; McGowan, Wilkinson, Spiranovic, Davidson; Jedinak, McKay; Halloran, Oar, Bozanic; Leckie.
Spain
The Spain of this year remember us Italy performance in 2010 World Cup , or France in 2002 World Cup where they were eliminated at group stages , not having the chance to defend their title.
Del Bosque , who is expected to resign after tonight's match , will try to put in decent performance after failing of doing that on the first 2 matches. He is expected to make some changes at the starting eleven since last matches, willing to put some fresh faces in.Casillas may step down for De Gea, so the Manchester United keeper may make his World Cup debut.
On the midfield Koke may start from the first minute, alongside Manchester United's Juan Mata and Arsenal's Santi Cazorla who have not played much in the first games.

Spain Possible line up,
4-2-3-1: Casillas; Juanfran, Albiol, Martinez, Alba; Koke, Busquets; Silva, Juan Mata, Santi Cazorla, Diego Costa.