When it comes to loyalty, there are few players that can match Gary Neville. Born on February 18, 1975 in Bury born, he started his football career at Manchester United on January 29, 1993, and that's exactly where he ended it ended on February 2, 2011.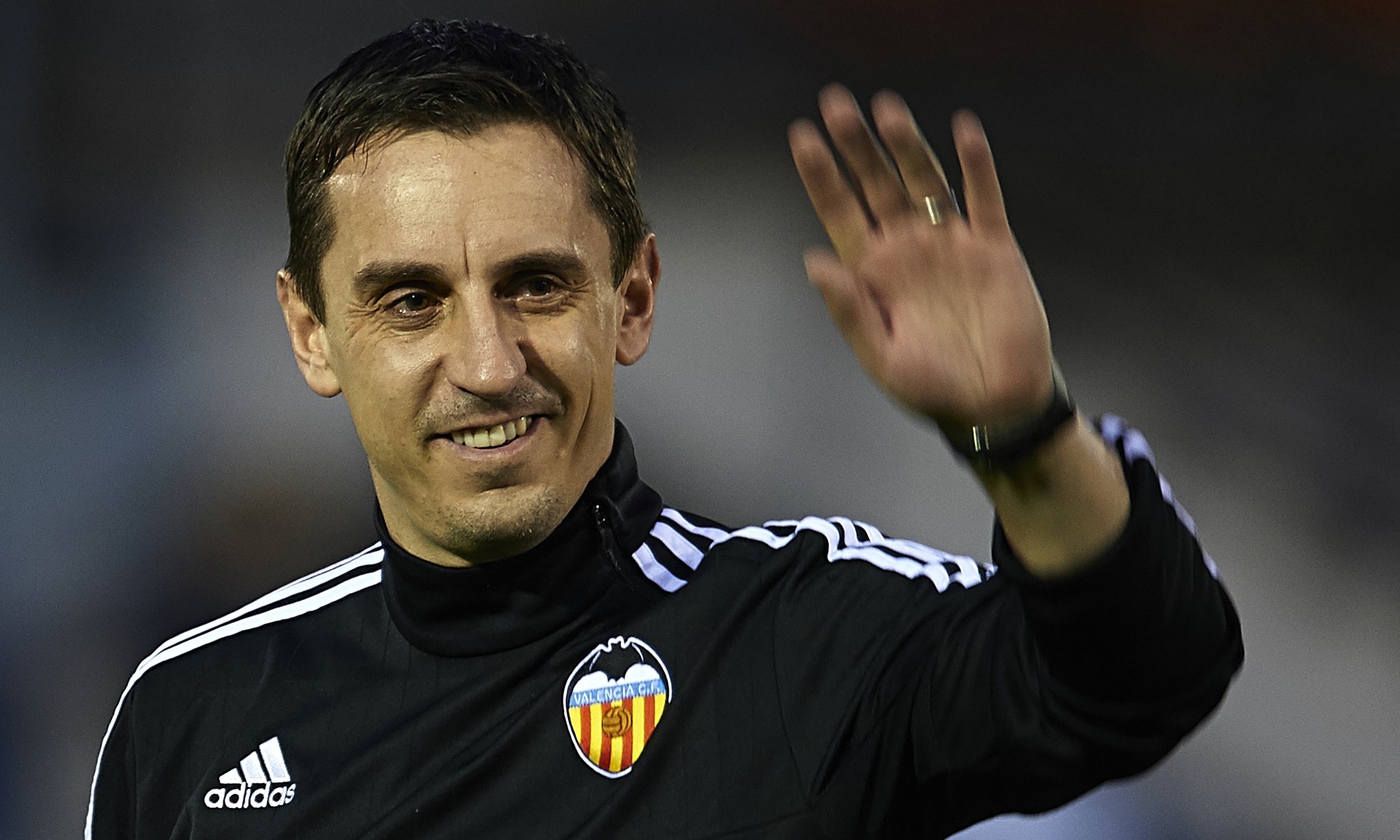 From junior to professional, Neville made 569 appearances for United during his football career and will go down as one of their best players. However, while he enjoyed a long and prosperous time on the pitch, things haven't gone quite so well in the next chapter of Neville's career.
After transferring into a managerial role, Neville has sat alongside England coach Roy Hodgson since 2012, but it was on December 2, 2015 when he was literally thrown in at the deep end as when he was named the manager of struggling Valencia FC.
Neville Thrown in at the Deep End
Leaving his role as a pundit on Sky Sports to take up the hot seat at the Mestalla Stadium, Neville faced a mammoth task from the start. After dropping to ninth in the league and reaching the brink of elimination from the Champions League, former Valencia manager Nuno Espirito resigned. That which forced the owner Peter Lim to bring in Neville towards the end of the season.
Unfortunately, despite being a one-club player for the duration of his career, Neville won't remain a one-man club as a manager. Despite a 2-0 loss to Lyon in the Champions League just seven days after he took up the managerial role, Neville rebounded with two draws and a 2-0 win over Barakaldo CF in his next three matches.
A loss and a draw followed before Neville hit his peak at Valencia with a 4-0 win over Granada CF in the Copa del Rey. Unfortunately, that was to be one of the few highlights for Neville and as he racked up more draws and losses than wins, the board started to worry as club sponsors Volkswagen and Adidas looked worryingly at the league table.
A 7-0 defeat to Barcelona on February 3, 2016 (which was a turn of events from the 1-1 draw they achieved back in December, 2015), was the proverbial nail in Neville's coffin and just under two months later he was shown the door by Lim and the board shortly after a 2-0 defeat to Celta Vigo.
During his four months in charge of Valencia, Neville notched up just three wins in 16 La Liga games and an overall rating of just 1.32 points per game. For all intents and purposes, Neville's first real managerial job was a failure, but as The Guardian's Barry Glendenning pointed out, "Neville has bounced back from similar reverses."
 Can Neville Inspire England to Euro 2016 Glory?
Indeed, if we're looking for an answer to the question "what will Neville do next", the forecast is largely positive. While he may not yet be ready to take the reins at a club such as Valencia, he still has a job to do with England this summer.
Sitting alongside Roy Hodgson in the dugout, Neville will be on hand to offer his expertise to England's current generation of stars throughout UEFA's Euro 2016 competition. Although he's not going to be directly in charge, it's clear Neville has had some success in his role as assistant manager. Indeed, England's recent outing against Germany saw the side fire in 20 shots and six on target, despite having just 37% of the possession.
Such a performance has given many fans some hopes ahead of the Euro 2016 with many pundits now tipping them as value bets. In fact, with Neville's sage words helping motivate the players, the bookmakers are currently tipping England to beat Russia by 2.5 goals or under in their first Group B game 11 at 10/3 (odds on April 6th). The odds makers have clearly picked up on both Neville's and Hodgson's defensive record.
There's Always a Future in Football for Neville
Of course, if all goes wrong with England, Neville can always fall back on his role at Sky Sports. According to a report in the Daily Mail, Neville was recently offered his old position as a pundit. Although he's yet to accept the position, electing to stay in Spain until Euro 2016 is over, Neville clearly has a future in football in some capacity.
Indeed, he still owns a piece of Salford and with more offers to commentate and report on matches likely to come flooding in, we don't think anyone should be shedding a tear for Neville just yet. Yes, his time at Valencia wasn't a move that covered him in glory. However, it was his first time in the hot seat and if he copes with defeat off the pitch in the same way he did on it, then we'll no doubt see him taking charge of another side (albeit not on the same level as Valencia) in the coming years.