LIONEL MESSI after winning the record four Golden balls, for the second consecutive year remained behind Cristiano Ronaldo in the selection of the best footballer in the world. Asked about his future Messi said : I want to end my career at Barcelona, but as Ronaldo says, only God knows the future..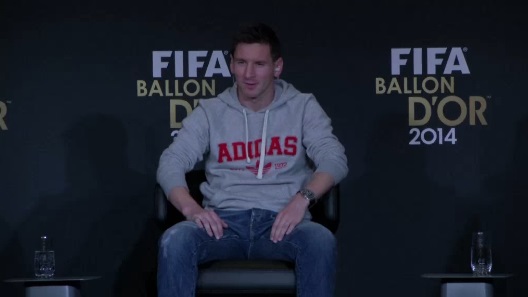 On the eve of the Fifa Ballon d'Or award, Messi told reporters he does not know where he will continue his career.
He dismissed speculation that he is negotiating with Chelsea or Manchester City, and whether he return to Argentina at the end of his career, he said: "I'm not sure what will happen and will i return in Newell`s.
Fifa Ballon d'Or nominees Cristiano Ronaldo and Lionel Messi talk about their futures.
At the mention of Ronaldo, Messi said : "Cristiano was brilliant. He has won the Champions League, Cup and broke the record by the number of goals. He was spectacular."
Asked can he imagine himself playing with Ronaldo, Messi said: "I think it will be hard for us to play together, but it would be nice."
Later on Messi clarified his earlier comments by saying he is happy at Camp Nou.
"Often I don't even come out and deny things or don't speak to the media because they always change some of my words to create controversy."
"I'm not thinking about leaving," he said. "Not at all. All I said was that in football you never know what will happen in future.
"Last year at Barcelona was very hard for me personally and professionally and we will try to turn things around this season."
"It's the same as with any other player in the dressing room – a coach to player relationship," he said.