World Cup in Brazil ended, Germany have raised the trophy thanks to Mario Gotze's 113th-minute volley goal. The FC Barcelona & Argentina striker received his "consoling" award by winning the FIFA World Cup best player award, called Golden Ball.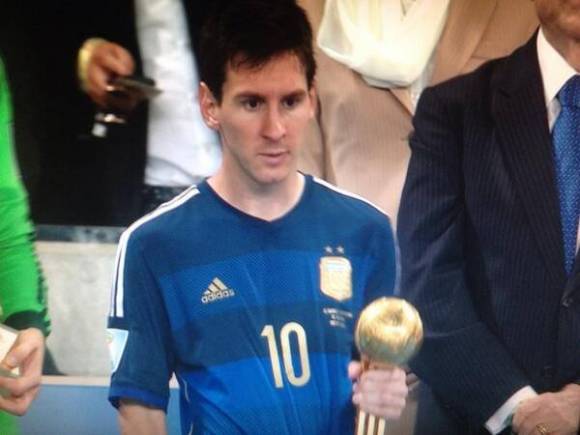 There are lot of questioning arround the web about Why did Lionel Messi actually won this award and did someone deserved it more than him.
There are a few players which FIFA added to their Golden Ball shortlist, players Like Robben, Müller, Hummels, Schweinsteiger, Rodriguez or even Neymar. So let's see some stats of them
– James Rodriguez Oficial:- 6 goals & 2 assists [ 5 matches ] – Won the World Cup 2014 Golden Boot
– Thomas Müller:- 5 goals & 3 assists [7 matches]
– Toni Kroos:- 2 goals & 4 assists [7 matches]
– Neymar Jr.:- 4 goals & 1 assist [5 matches]
Lionel Messi stats at World Cup 2014
– 7 matches, 573 minutes played
– 4 man of the matches.
– 4 goals
– 1 assist
– Most accurate through balls.
– Most key passes.
– Most accurate long passes in last 3 matches.
– 23 chances created (most chances created) in the world cup.
– Most interceptions being a attacker.
– 46 dribbles completed (most dribbles completed)
– Lead his team to finals.
When we repeat the World Cup Golden Ball award meaning , which is awarded to the Best player and we cross it with Lionel Messi's stats, it can be noticed that he is the only player who managed to achieve those stats. Argentina didnt won World Cup , but stats above show that Messi did deserve this award.
There is only one player who deserved it probably most than him and it's Germany's Goakeeper Manuel Neuer, but FIFA doesnt count the GK's as the players, and they have their own award which Neuer has won, the best goalkeeper of the World Cup tournament.
So why all this drama about Messi's award. It's simple, this drama is made by people who are called Cristiano Ronaldo fans. Yes there are others too, but not so much. We simply dont know why so much it needs to be split up to Messi vs Cristiano when we are lucky to live in era of these two football geniuses like many others and we can just enjoy watching them all playing the game we love, Football.